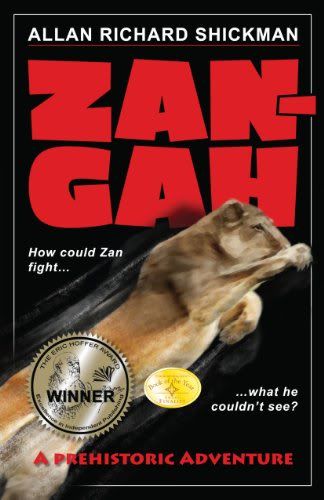 The hero, Zan-Gah seeks his lost twin in a savage prehistoric world, encountering suffering, captivity, conflict, love, and triumph. In three years, Zan-Gah passes from an uncertain boyhood to a tried and proven manhood and a position of leadership among his people. Themes: survival, cultures, gender roles, psychological trauma, nature's wonders and terrors.
[from
Goodreads
]
Rating: 3.5 out of 5 boxes
Target Audience: Spear-wielding adventurers
High point: The subtlety
Low point: The simplicity
Reader maturity: 10+
I don't normally read novels with male narrators or prehistoric action adventures, but I'd read so many good things about
Zan-Gah
that, when offered a chance to review it, I had to say yes. Lucky for me, I wasn't disappointed.
Zan-Gah
pleasantly surprised me, and something about it makes it a compelling read appropriate for every age and gender.
Though the writing is somewhat stilted in past tense, it works well for this novel, which is heavy on this-is-how-it-is commentary vs. exploring the main character's emotional state. Zan-Gah is an honorable, if simplistic, warrior from a long ago race. The reader adventures along with him as he searches for his lost brother.
While the words are short and the sentences uncomplicated,
Zan-Gah
never dragged or lost my attention. Rather, I was trying to read faster in order to find out what happens. Readers of all ages can enjoy
Zan-Gah
, but it is especially appropriate for pre-teen and younger teen guys. I know
I'm
ready to find out what happens next!
Title: Zan-Gah: A Prehistoric Adventure
Author: Allan Richard Shickman
Genre: Fiction - Prehistoric
Year: 2007
Book Source: Received for review from Earthshaker Books