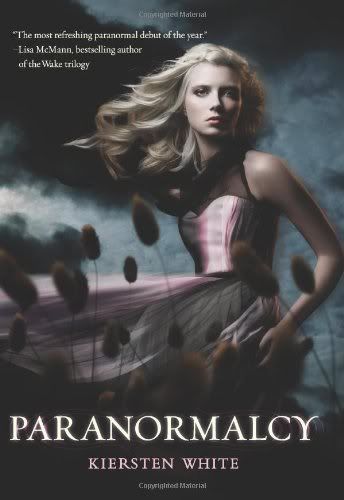 Evie's always thought of herself as a normal teenager, even though she works for the International Paranormal Containment Agency, her ex-boyfriend is a faerie, she's falling for a shape-shifter, and she's the only person who can see through paranormals' glamours.
But Evie's about to realize that she may very well be at the center of a dark faerie prophecy promising destruction to all paranormal creatures.
So much for normal.
[from
Goodreads
]
Rating: 4.5 out of 5 boxes
Target Audience: Paranormal fans looking for a novel with a little bit of everything
High point: Evie, the writing, the appropriateness
Low point: I have to wait for the next one...
Reader maturity: 10+
Every once in a while, a book comes along that lives up to my expectations--
Paranormalcy
is one of those! I enjoyed it from the first page to the last and finished it in an afternoon.
Evie, longing to be normal, is refreshingly cute and innocent. She's selfless, but not angelic, rebellious but not a bad example, a teenager but not immature. Her crush on the shape-shifter made me giggle; her feelings are so sweet. Her enthusiasm about lockers and high school caused some genuine laughter.
The writing is wonderful, smooth and perfectly descriptive. I could picture the headquarters of the International Paranormal Containment Agency and all of its paranormal employees in perfect detail. Even the hard-to-describe shape-shifter becomes visible through Kiersten White's words.
Paranormalcy
not only impressed me as a singular effort, but the fact that its Ms. White's debut novel astounds me! It's a phenomenal first attempt and doesn't fall for any of the usual freshman mistakes. I highly, highly recommend it.
To boot, it's entirely clean, and it never feels like anything is lacking. I wish more novels would follow suit. A good plot and good characters make the story, and
Paranormalcy
has both.
Title: Paranormalcy
Author: Kiersten White
Genre: Fiction - Supernatural
Year: 2010
Book Source: Won an ARC from Fantastic Book Review