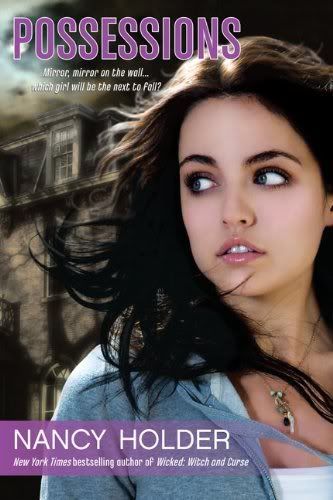 Lindsay is hoping for a fresh start, to get out of San Diego, where everyone remembers when she had her breakdown, and get away to boarding school, even if it is a boarding school as creepy as Marlwood Academy. But Lindsay is happier, and even manages to make a great new friend, Julie. Then, the school's most popular girl, Mandy starts acting super creepy. Rumors abound, but it's becoming more and more clear to Lindsay that something else is at work...something darker and more dangerous than just a houseful of mean girls.
[from
Goodreads
]
Rating: 3.5 out of 5 boxes
Target Audience: Insomniacs; people who enjoy not being able to sleep...
High point: The scare factor!
Low point: It's kinda cheesy
Reader maturity: 15+
Honestly, I thought I was going to intensely dislike this book. I picked it out during a time when I was reading two other super interesting novels, and I thought I could just phone this one in. Was I ever wrong!
Lest I mislead you,
Possessions
isn't great literature or even on my list of favorite YA novels. It did, however, give me the creeps and nightmares more than once. Due to that, I don't recommend reading it right before bedtime. I
do
recommend finishing it one sitting and getting the heebie-jeebies out of the way in one go. If at all possible, I'll be picking up the sequel...and soon.
The writing falls somewhere in the middle, between okay and hey-that-was-pretty-good, and the plot isn't exactly groundbreaking, but
Possessions
really hit a nerve in the fear section of my brain. The tension is almost palpable, while the mysterious phantom of the night floats out the pages. Considering the title, the evils in the novel are surprisingly subtle, and that's what makes them so powerful, both in terrorizing the boarding school girls and the reader.
Other than being sort of scary, some swearing and a lot of angsty teenage rebellion, there's no questionable content. If you're looking for a scary read,
Possessions
is a great YA thriller...just don't read it right before trying to go to sleep.
Title: Possessions
Author: Nancy Holder
Genre: Fiction - Supernatural
Year: 2009
Book Source: Won from Writer's Block Reviews