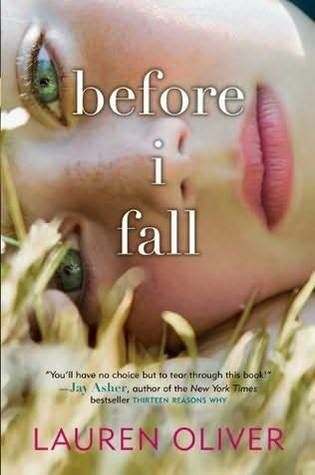 What if you had only one day to live? What would you do? Who would you kiss? And how far would you go to save your own life?

Samantha Kingston has it all—looks, popularity, the perfect boyfriend. Friday, February 12th should be just another day in her charmed life. Instead, it's her last. The catch: Samantha still wakes up the next morning. In fact, she re-lives the last day of her life seven times, until she realizes that by making even the slightest changes, she may hold more power than she had ever imagined.
[from
Goodreads
]
Rating: 5 out of 5 boxes
Target Audience: Anyone?
High point: The concept and execution
Low point: As a rule, I dislike mean girls, so...
Reader maturity: 15+
Before I Fall
is one of the most powerful--if not
the
most powerful--YA book I've read to date. It's poignant and sad and dramatic and inevitable, all rolled up into one completely consuming package.
Before my sprint through
Before I Fall
(it was sooo good!), I read some interviews with the author, Lauren Oliver, where she talked about what she was thinking while writing this novel. I don't know how she managed to craft something so intense into her first novel, but she did a brilliant job of it.
It's going to be hard to review this without spoiling anything so proceed with caution. Samantha Kingston lives Friday, February 12 as if it's just another day. But it isn't. It's her last. However, she gets the chance to try again--seven times. Each time she tries the day a little differently, trying to stumble upon the magic formula that will save her.
Before I Fall
could easily have turned into a boring, repetitive, Groundhog-Day-type novel, but that comparison completely left my thoughts after I read through the second day. Each day reveals something new and important, both to the reader and to Sam. We get to see her evolution from alive Sam Kingston to post-alive Sam Kingston. The changes are so subtle and yet so thorough that it's impossible not to empathize with her, even though she was insufferable in the beginning. She grows more in those seven days than she ever had in her entire life, and the transformation is amazing.
As for the maturity rating,
Before I Fall
contains some drinking, innuendo and talk of a sexual nature so it's a book for mid-to-older teens, but it's nothing too mature.
In summation, Lauren Oliver is an extremely talented author, and her writing is amazing, as is the entirety of
Before I Fall
. But don't take my word for it--this is a book you
really
need to get your hands on!
Title: Before I Fall
Author: Lauren Oliver
Genre: Fiction - Contemporary
Year: 2010
Book Source: Won from BookLove: Teen