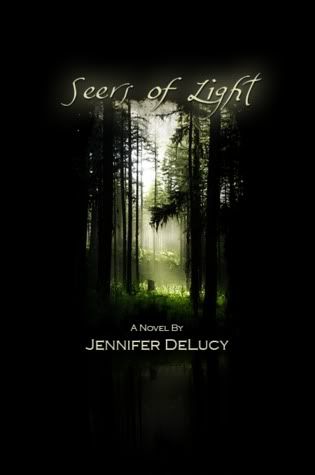 Lillian Hunt has never truly lived. Always sensing more to the world than is easily perceived, she fears that her instincts are stubborn flights of fancy, or worse, mental instability. But some things—disappearing strangers, tangible dreams, and visits from malevolent creatures—cannot be ignored. Before it's too late, Lillian is ripped from the only existence she's ever known and thrust into a reality that she always suspected, but could scarcely believe. She must learn the truth about who she is, the powerful beings that wish to destroy her, and the two men who would die to protect her.

Jennifer DeLucy has created a unique, enchanting tale of destiny and the ageless power of love in her debut novel, Seers of Light. DeLucy's novel charms readers with quirky characters, while sketching a haunting portrait of one woman's journey on the path of the supernaturally gifted. But be prepared. Once you've entered the world of Seers, you will never be the same.
[from
Goodreads
]
Rating: 3 out of 5 boxes
Target Audience: Adult paranormal readers
High point: The plethora of supernatural beings
Low point: The needless mature content
Reader maturity: 17+
While I enjoyed the plot and details of
Seers of Light
, I feel that its prudent to warn you:
Seers of Light
is not a YA novel. I mistakenly thought it was and got quite the surprise about halfway through. Due to some explicit content and repeated swearing, this is definitely not a novel for teens. Please keep in mind that, below, I am reviewing the plot of the novel and not the adult content.
Seers of Light
is an interesting take on the plethora of supernatural creatures dotting the current literary landscape. The take on vampires, ghosts and clairvoyants is fresh, and I love the combination of all these creatures under one roof. Lillian's training was interesting, as were some of the cases that the Seers were called to take care of. I would've liked to see more of them in action, because that's where the meat of the story really existed for me.
Aside from being too easily swayed by others' opinions, Lillian was a decent narrator--appropriately cautious and confused, if also too quick to anger, like another Seer, Christian. At first, her mentor, Abram, seemed too all-knowing and reticent to be taken seriously, but his even keel and careful conversations keep him from coming across as too cheesy.
There were
a lot
of supporting characters in
Seers of Light
, some of whom had a bigger role than others. The main two besides Lillian--Christian and William--were well thought-out, if somewhat predictable characters. The minor characters varied between standing at the sidelines or stealing the show with random antics.
Overall, I was somewhat disappointed with
Seers of Light
because of the adult content. Take all that away, and you're left with a solid paranormal novel that could appeal to audiences of many ages and preferences. There's action, mystery, romance and, obviously, paranormal. As it stands, if you're not the type to be bothered by anything 17+, you might enjoy the interesting themes in
Seers of Light
.
Title: Seers of Light
Author: Jennifer DeLucy
Genre: Fiction - Supernatural
Year: 2010
Book Source: Received for review from Omnific Publishing