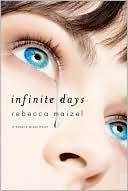 Lenah Beaudonte is, in many ways, your average teen: the new girl at Wickham Boarding School, she struggles to fit in enough to survive and stand out enough to catch the eye of the golden-boy lacrosse captain. But Lenah also just happens to be a recovering five-hundred-year-old vampire queen. After centuries of terrorizing Europe, Lenah is able to realize the dream all vampires have -- to be human again. After performing a dangerous ritual to restore her humanity, Lenah entered a century-long hibernation, leaving behind the wicked coven she ruled over and the eternal love who has helped grant her deep-seated wish.

Until, that is, Lenah draws her first natural breath in centuries at Wickham and rediscovers a human life that bears little resemblance to the one she had known. As if suddenly becoming a teenager weren't stressful enough, each passing hour brings Lenah closer to the moment when her abandoned coven will open the crypt where she should be sleeping and find her gone. As her borrowed days slip by, Lenah resolves to live her newfound life as fully as she can. But, to do so, she must answer ominous questions: Can an ex-vampire survive in an alien time and place? What can Lenah do to protect her new friends from the bloodthirsty menace about to descend upon them? And how is she ever going to pass her biology midterm?
[from
Goodreads
]
Rating: 3.5 out of 5 boxes
Target Audience: Tried-and-true vampire novel readers who'd like a little twist
High point: The blend of historical and contemporary
Low point: The drama!
Reader maturity: 15+
Infinite Days
is a unique story in and of itself, even before taking into account the ex-vampire aspects of it. From a time travel perspective, Rebecca Maizel did a wonderful job of giving Lenah the wonder and confusion that would be expected of someone who leapt forward 100 years. Lenah's acceptance of 21st century life is speedy, but that's explained by her life as a centuries-old vampire who spent her years adjusting to the modes of the time, if not the morals.
I was fascinated by Lenah's adventures in our day and age, almost as if reading a diary.
Infinite Days
is written from Lenah's perspective, which, while not quite historical, isn't like most modern fiction. It was an interesting choice,
daring
even, but it works really well to showcase Lenah's story.
Like most YA vampire novels,
Infinite Days
is a little bit campy and dramatic, but if you were looking for serious fiction, you wouldn't be in the supernatural YA section anyway, now would you? The camp, the drama, Lenah's former wickedness and the devotion of her coven--they're all tied together so skillfully that even though I knew what happened to Lenah in the present day, my curiosity was still piqued as I read about her past exploits.
This is one of the more serious YA vampire novels I've read, which is strange for me to say, because I can't put my finger on what, exactly, was so different about it. Lenah's past was pure evil, of course, and her presently evil coven is out to get her. And Lenah engages in certain...adult pastimes before she's reborn as a mortal...But beyond that, there's something that takes Infinite Days out of the realm of fluffy paranormal fiction to something more classically literary in nature.
Along with my warning about adult vampire activities, there was also some swearing, but neither of those is too prevalent or descriptive.
Infinite Days
is a great start to a new vampire series that paranormal YA readers will really enjoy!
Title: Infinite Days
Author: Rebecca Maizel
Genre: Fiction - Supernatural
Year: 2010
Book Source: Won from Reading Nook