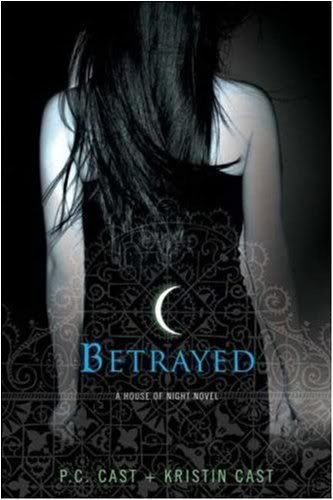 Fledgling vampyre Zoey Redbird has managed to settle in at the House of Night. She's come to terms with the vast powers the vampyre goddess, Nyx, has given her, and is getting a handle on being the new Leader of the Dark Daughters. Best of all, Zoey finally feels like she belongs--like she really fits in. She actually has a boyfriend…or two. Then the unthinkable happens: Human teenagers are being killed, and all the evidence points to the House of Night. While danger stalks the humans from Zoey's old life, she begins to realize that the very powers that make her so unique might also threaten those she loves. Then, when she needs her new friends the most, death strikes the House of Night, and Zoey must find the courage to face a betrayal that could break her heart, her soul, and jeopardize the very fabric of her world.
[from
Goodreads
]
Rating: 2 out of 5 boxes
Target Audience: Teen girls, vampire aficionados
High point: Slightly different take on the classic vampire tale
Low point: Immature writing style and predictable relationships
Reader maturity: 17+
Zoey Redbird finds out that she is Marked to undergo the Change into a vampyre. Dealing with crazy parents and the loss of her former friends, this powerful fledgling immediately faces conflict from the reigning clique at her new school, the House of Night. Using the courage and wisdom instilled in her by her Cherokee grandmother, she discovers her place--and new powers--at the House of Night.
Betrayed
is a small step up from
Marked
. The writing style is still immature (in reference to certain character descriptions), but they have toned down a little and are less vicious than before, making this a much more pleasant read. I fail to understand Zoey's reasoning behind continuing her relationship with an old flame and risking a new one, but her courage and honesty regarding the situation keep her from coming across as unintelligent. Zoey's outlook is still too simple and straightforward to be believable, but she remedies this towards the end of the book, showing her flaws and her ability to fight back, rather than being a mostly passive character even in her active moments.
I easily guessed at the explanation behind the mysterious figures Zoey sees in
Marked
and was pleased with the exposition of their existence in
Betrayed
. Though I think Zoey showed her cards too freely at the end of the novel and can guess at some of the next book, I am still interested in finding out what happens in
Chosen
.
Title: Betrayed
Author: P. C. Cast and Kristin Cast
Genre: Young Adult Horror and Suspense
Year: 2007
Book Source: Received as gift