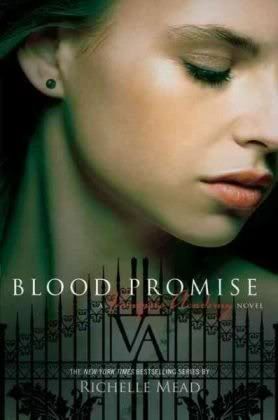 How far will Rose go to keep her promise?
The recent Strigoi attack at St. Vladimir's Academy was the deadliest ever in the school's history, claiming the lives of Moroi students, teachers, and guardians alike. Even worse, the Strigoi took some of their victims with them. . . including Dimitri.
He'd rather die than be one of them, and now Rose must abandon her best friend, Lissa—the one she has sworn to protect no matter what—and keep the promise Dimitri begged her to make long ago. But with everything at stake, how can she possibly destroy the person she loves most?
[from
Goodreads
]
Rating: 4.5 out of 5 boxes
Target Audience: Teens who love good vampire drama
High point: The empathy the reader feels for Rose
Low point: Lissa
Reader maturity: 15+
I can't believe it. She did it. Again. Richelle Mead surpassed all of my expectations and created, not only an amazing 4th book in a series, but a story that's even better than the 3 amazing novels before it!
In
Blood Promise
, we're taken along for a ride to Russia with Rose, and we get to see her vulnerable side, her thoughts and fears and hopes and dreams. It's a great next step in character development. I've lamented in the past that Rose matures and then de-matures, but in this novel, she shows a lot of growth and self-control, making me love her even more as the main character.
Even though she's away from the Academy, we check in on Lissa, Christian and the gang through Adrian's dreamwalking. And someone (my new favorite little spitfire!) puts Lissa in her place by stating the obvious--that Lissa is kinda selfish. That's when Lissa finally stops being so irritating to me; she finally gets a little humanity in there with her Moroi blood too.
I've had a soft spot for Adrian for a while, and
Blood Promise
doesn't let me down in that department. The ending is sweet and hopeful, and even though I have a pretty good guess how the next book will turn out, I'm still rooting for Adrian.
There are several chapters in this novel where nothing really happens; Rose is in the same place for weeks and does the same things over and over...but I never got bored. It was interesting to me to see what Ms. Mead did there, catapulting us into Rose's head so that we were just as lost as she was.
Blood Promise
is the best book in the Vampire Academy series
by far
, and they're all pretty amazing.
One thing I've disliked about the previous novels was the needless adult content.
Blood Promise
is much cleaner. There are some intense romantic situations, but the type of scenes that appeared in the earlier 3 books are missing from
Blood Promise
, making it suitable for a
slightly
younger audience.
Title: Blood Promise
Author: Richelle Mead
Genre: Young Adult Horror and Suspense
Year: 2009
Book Source: Purchased