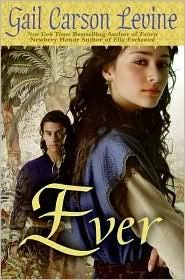 Falling in love is never easy, but falling in love with an immortal god while your days on earth are numbered is almost more than a young girl can bear.

Gail Carson Levine has created a stunning new world of flawed gods, unbreakable vows, and ancient omens in this spellbinding story of Kezi, a girl confronted with a terrible destiny. Attempting to thwart her fate, Kezi and her love, Olus -- the god of wind and loneliness -- embark on a series of dangerous and seemingly impossible quests.
[from
Goodreads
]
Rating: 2.5 out of 5 boxes
Target Audience:
High point:
Low point:
Reader maturity: 10+
Ella Enchanted
by Gail Carson Levine was one of my favorite stories growing up, and I always meant to read more by her, entertained as I was by the retelling of the fairytale.
Ever
, the first book I've read of hers since
Ella Enchanted
, is another mystical tale, but the pages of this one ripple with magic and mythology rather than a simple Cinderella story. A comparison is hardly fair, but as that was what I did while reading, I have to say that
Ever
lacks the spryness and laughter of
Ella Enchanted
but comes with a new blend of delectable storytelling spices.
Ever
follows Kezi, a mortal, as she attempts to find a way to live with her love, Olus, god of the winds. It's a mythological story based on made-up legend that feels like it could be real. Kezi was delightful, if a bit annoying in her precociousness, and Olus was a decent love interest, if a bit...creepy in his watching of Kezi. (He's not really creepy, but I've been reading too many vampire novels and that's what I thought of.)
The story invested me in its outcome; I'll admit that I flipped ahead to see exactly what the "ultimate loss" and "supreme sacrifice" were. I wish that the trials had been a little more...trial-y, but this
is
an MG novel and can't be expected to have chapters upon chapters of angst. In a way, it was quite refreshing for two level-headed heros to triumph without the need for two or three sequels.
The story is written for middle grade or early teens, and though it has romance and action, the simplicity of the story and the trials may not capture the attention of older readers. As an MG novel, it's completely safe for anyone advanced enough to read it.
Title: Ever
Author: Gail Carson Levine
Genre: Fiction - Middle Grade Fantasy
Year: 2008
Book Source: Purchased