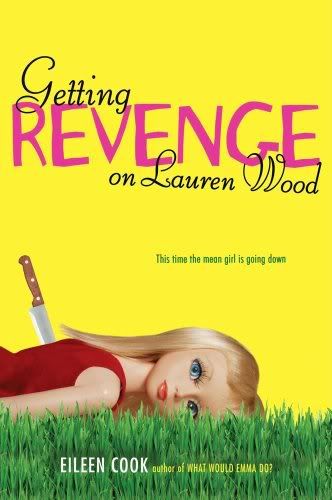 Popularity is the best revenge.

In the final weeks of eighth grade, Lauren Wood made a choice. She betrayed her best friend, Helen, in a manner so publicly humiliating that Helen had to move to a new town just to save face. Ditching Helen was worth it, though, because Lauren started high school as one of the It Girls--and now, at the start of her senior year, she's the cheerleading captain, the quarterback's girlfriend, and the undisputed queen bee. Lauren has everything she's ever wanted, and she has forgotten all about her ex-best friend.

But Helen could never forget Lauren. After three years of obsessing, she's moving back to her old town. She has a new name and a new look, but she hasn't dropped her old grudges. She has a detailed plan to bring down her former BFF by taking away everything that's ever been important to Lauren—starting with her boyfriend.

Watch out, Lauren Wood.
[from
Goodreads
]
Rating: 3.5 out of 5 boxes
Target Audience: Teens...or anyone else who remembers high school
High point: Helen's journey of self-discovery
Low point: Mean girls
Reader maturity: 15+
This is a horrible way to start a review, but bear with me: I'm really, really surprised that I liked this book. But I did! I really liked it! Everything from the cover to the plot to the ending,
Getting Revenge on Lauren Wood
is a fun and awesome novel.
I don't like stories about revenge or high school or angst or mean girls, and before I read it, the backstabbed doll on the front creeped me out a little. However,
Getting Revenge on Lauren Wood
gets into the emotional side of being a mean girl and how being a mean girl affects the nice girl that lives inside (assuming that a nice girl exists there at all, that is).
Eileen Cook struck a delicate balance between explaining Helen's past and a pity party, which would've ruined the whole charade. She also deliberately walked the line between Helen's indoctrination as a full on mean girl and her reluctance to let go of being the person she knew she should be. Both of these are tricky, but important, plot points, and they're spot on.
Helen's not a good role model, by any stretch, but she's an interesting narrator, and
Getting Revenge on Lauren Wood
is a well executed tale about how hard high school is--for everybody.
Title: Getting Revenge on Lauren Wood
Author: Eileen Cook
Genre: Fiction - Contemporary
Year: 2010
Book Source: Won from The Bookologist