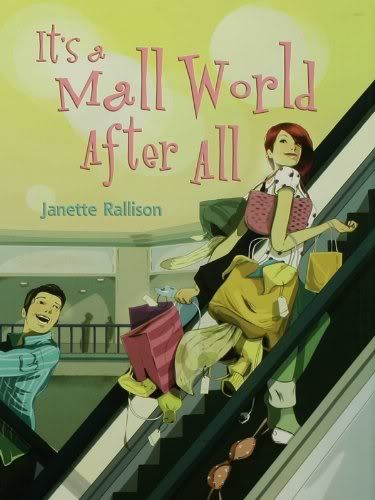 Charlotte's job as a perfume spritzer at the mall is perfect for spying on her classmates who hang out there. So when she see her best friend's boyfriend flirting with another girl, a series of hilarious, often foiled attempts to catch him in the act of cheating follow. Through it all, the gorgeous and infuriating Colton is there laughing at her. But when Charlotte and Colton dress up as Santa and his elf for a charity event at the mall, they get more attention than they bargained for-leading to a mall brawl, a moment of truth, and the realization that being right isn't always a one-size-fits solution.
[from
Goodreads
]
Rating: 2.5 out of 5 boxes
Target Audience: Teens...or anyone else who remembers high school
High point: Decently amusing
Low point: Typical contemporary YA
Reader maturity: 15+
When I first saw the cover of
It's a Mall World After All
, I just
knew
I wasn't going to like it. But since I won it, I gave it a shot, and it's evidence that I shouldn't judge a book solely by its cover (or title).
If you've been reading my reviews here for a while, you probably realize that I don't
love
contemporary novels, and
It's a Mall World After All
is no exception, but it made great strides towards trying to get me to love it, which I think means that people who regularly enjoy contemporary YA would like it a lot.
As it is, it's a decent fluffy contemporary novel. There are no egregious plot errors, no glaringly annoying cliches or poorly developed characters. Though I didn't quite understand the attraction between the MC and her love interest, I liked that the MC had a great heart and her friends in mind at all times. The ending was satisfactory and appropriate.
It's a Mall World
should be appropriate for mid-to-older YA readers and will probably be best enjoyed by that age group as well.
Title: It's a Mall World After All
Author: Janette Rallison
Genre: Fiction - Contemporary
Year: 2006
Book Source: Won from Squeaky Books