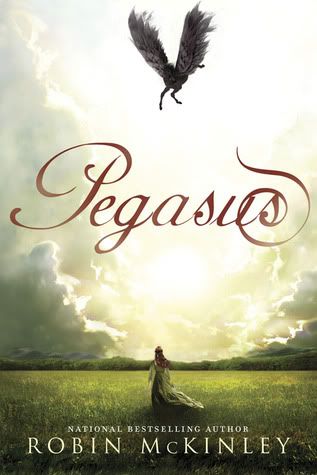 A gorgeously written fantasy about the friendship between a princess and her Pegasus.
Because of a thousand-year-old alliance between humans and pagasi, Princess Sylviianel is ceremonially bound to Ebon, her own Pegasus, on her twelfth birthday. The two species coexist peacefully, despite the language barriers separating them. Humans and pegasi both rely on specially-trained Speaker magicians as the only means of real communication.

But its different for Sylvi and Ebon. They can understand each other. They quickly grow close-so close that their bond becomes a threat to the status quo-and possibly to the future safety of their two nations.

New York Times bestselling Robin McKinley weaves an unforgettable tale of unbreakable friendship, mythical creatures and courtly drama destined to become a classic.
[from
Goodreads
]
Rating: 4 out of 5 boxes
Target Audience: Those who never tire of fairytales
High point: The gorgeous imagery
Low point: Pegasus don't really exist so I can't have one
Reader maturity: 13+
Pegasus
is one of the best YA books I've read all year and, without a doubt, lives up to all the high praise it has received. A grown-up version of a beautiful fairytale, it will captivate and entertain audiences of all ages.
Spanning several years,
Pegasus
tells the story of a princess and her pegasus. Their unique bond unites them, even as it threatens to tear apart the fragile threads of the treaty between pegasus and man. Oftentimes, novels that cover so many years begin to drag but not so with
Pegasus
. I was hooked, eagerly turning page after page. Sylvi's joys and pains were so real to me, like being immersed in the action. I wanted to visit the Pegasi caves and see the Dreaming Sea. The imagery in
Pegasus
is beautiful; Ms. McKinley's words paint stunning watercolor pictures across the pages.
Sylvi's story moved rather slowly to me, but she was so involved in learning about the pegasus that I completely forgot that her land was being threatened by invaders. My only complaint--other than not having my own pegasus--is that I was hoping for more closure regarding that issue. Hopefully there's a sequel!
Title: Pegasus
Author: Robin McKinley
Genre: Fiction - Fantasy
Year: 2010
Book Source: Won from Carol's Prints