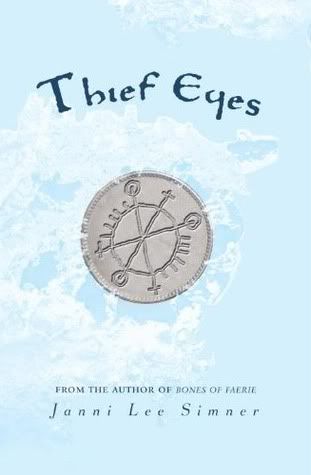 After her mother mysteriously disappears, sixteen-year-old Haley convinces her father to take her to Iceland, where her mother was last seen. There, amidst the ancient fissures and crevices of that volcanic island, Haley meets gorgeous Ari, a boy with a dangerous side who appoints himself her protector.

When Haley picks up a silver coin that entangles her in a spell cast by her ancestor Hallgerd, she discovers that Hallgerd's spell and her mother's disappearance are connected to a chain of events that could unleash terrifying powers and consume the world. Haley must find a way to contain the growing fires of the spell—and her growing attraction to Ari.

Janni Lee Simner brings the fierce romance and violent passions of Iceland's medieval sagas into this twenty-first-century novel, with spellbinding results.
[from
Goodreads
]
Rating: 3 out of 5 boxes
Target Audience: Readers looking for something a little different
High point: Icelandic mythology
Low point: Not very gripping
Reader maturity: 13+
Thief Eyes
is certainly one of the most unique YA stories I've ever had the opportunity to pick up, and I hope that it launches a trend for adventures entangled in ancient and obscure lore.
In
Thief Eyes
, Janni Lee Simner combines modern-day mystery with an ancient Icelandic myth, plunging the main character, Haley, into a centuries-old spell. She's stuck in the past with no one but Ari, a boy she's only just met. They journey through space and time and memory, gambling with the past and the present.
Though
Thief Eyes
never reached out to yank me into the story, I was nevertheless fascinated by the concept and the plot. I've never read much about Iceland, and the chance to learn about the culture and mythology was very interesting. The story kept me engaged and entertained, with a detached writing style that lent itself well to communicating Haley's confusion
I thought the ending was a little too tidy, with all but one end tied up neatly, but since I love happy endings, I won't complain too much.
Title: Thief Eyes
Author: Janni Lee Simner
Genre: Fiction - Supernatural
Year: 2010
Book Source: Won from Fragments of Life