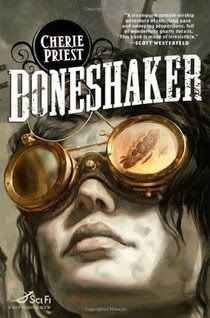 Cherie Priest's much-anticipated steampunk debut has finally arrived in the form of a paperback original. Its plot features the sort of calibrated suspense that readers of her Four and Twenty Blackbirds would expect. Boneshaker derives its title from the Bone-Shaking Drill Engine, a device designed to give Russian prospectors a leg up in the race for Klondike gold. Unfortunately, there was one hitch: On its trial run, the Boneshaker went haywire and, long story short, turned much of Seattle into a city of the dead. Now, 16 years later, a teenage boy decides to find out what is behind that mysterious wall. Can his [mother] save him in time? Zombie lit of the first order.
[from
Goodreads
]
Rating: 2.5 out of 5 boxes
Target Audience: Wannabe steampunks looking to test the waters
High point: Lots of action and adventure
Low point: Didn't capture my interest
Reader maturity: 13+
Boneshaker
was set up to be a great steampunk novel, full of action, adventure and excitement. While it was certainly steampunk and there
was
action and adventure, I felt that it was missing some of the requisite excitement.
The plot of the novel is really cool and makes for an interesting exploration, especially with the alternate-reality/history Seattle. Mad scientists, crazed prisoners and Blight-afflicted Zombies make for a fun journey. However, for most of the novel, I could muster little more than a "meh" reaction to either Zeke or Briar's tales. It wasn't until the last 1/3 of the novel that I really got interested.
My favorite characters were Lucy and Swakhammer; they had great personalities and a lot of "stage presence," if you will. I was happy with the ending, and, lack of excitement aside, the writing was okay, filled with spot-on descriptions of the blight and the state of the town inside the walls. Reading
Boneshaker
was almost like watching a movie; it was so vivid.
Boneshaker
turned out to not really be my thing, but if you're into steampunk, it might be a great novel for you. Though I didn't love this one, I'm interested in the concept of the Blight and the Boneshaker so if it falls into my hands, I'll definitely give the sequel,
Dreadnought
, a try.
Title: Boneshaker
Author: Cherie Priest
Genre: Fiction - Historical, Steampunk
Year: 2009
Book Source: Purchased