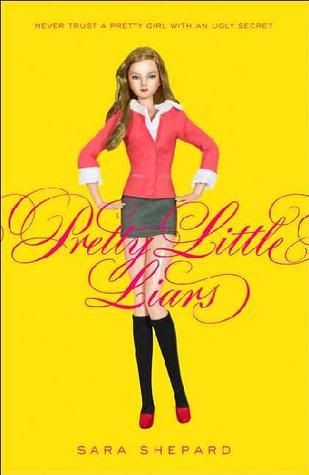 Three years ago, Alison disappeared after a slumber party, not to be seen since. Her friends at the elite Pennsylvania school mourned her, but they also breathed secret sighs of relief. Each of them guarded a secret that only Alison had known. Now they have other dirty little secrets, secrets that could sink them in their gossip-hungry world. When each of them begins receiving anonymous emails and text messages, panic, sets in. Are they being betrayed by some one in their circle? Worse yet: Is Alison back? A strong launch for a suspenseful series.
[from
Goodreads
]
Rating: 2.5 out of 5 boxes
Target Audience: Contemporary YA readers
High point: The fluffy fun
Low point: The content
Reader maturity: 15+
I'm a little ashamed to admit it, but I liked this book.
While the tv show of the same name is my one and only television guilty pleasure, I really thought I was going to hate the books, expecting them to be nonsense.
Pretty Little Liars
certainly isn't great literature, but it doesn't pretend to be. Instead, it's a fun and fluffy mystery/adventure.
The book characters looked nothing like their tv counterparts, so I had trouble keeping them straight in my head, but that's the fault of the show, not the book. The books are also grittier (that's gritti
er
, not gritty) than the show, which also kept throwing me, and the books revealed some things about characterization that the show didn't. It was all but impossible to separate the two.
This is definitely a book for older teens, given the content, and it's probably also best for occasional readers because it gets only an "average" rating from me for writing style and plot. But there's just something irrestistably campy and over-the-top about it that makes it fun.
Due to some of the content and other things I don't want to nitpick, I'm not going to recommend it, but if it happens to fall into your hands, as it did mine, it's a decent read if you're in the mood solely to be entertained.
Title: Pretty Little Liars
Author: Sara Shepard
Genre: Fiction - Contemporary
Year: 2006
Book Source: Won from Stiletto Storytime