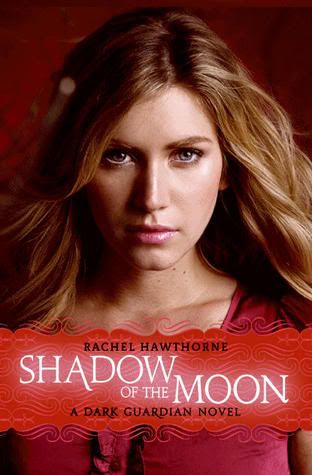 I can feel every Shifter's emotions except Daniel's—
the only one whose heart I long to know.

HAYDEN was born a werewolf, a Dark Guardian. But her ability to sense the feelings of fellow werewolves has made her life unbearable. She runs away, only to be tracked by charming, mysterious Daniel, a newcomer to the pack and the one Shifter immune to her powers. As she reluctantly follows him home, Hayden finds herself falling dangerously in love. . . .

But even as her feelings for Daniel deepen, Hayden begins to wonder if he is who he claims to be. Where did he come from and why has no one ever seen him transform? When they stumble upon the body of a Shifter still in wolf form, her worries grow. Someone is killing her kind. Is her handsome tracker really a hunter? And is Hayden now his prey?
[from
Goodreads
]
Rating: 4 out of 5 boxes
Target Audience: MG paranormal readers
High point: Unique main characters
Low point: A little melodramatic
Reader maturity: 13+
I'm not positive, but I think
Shadow of the Moon
is my favorite of the Dark Guardian series. How often does that happen with a fourth book?!
Shadow of the Moon
differs from the previous novels in that it centers around both Hayden and Daniel, and it takes place away from Wolford. Hayden is something of an outsider, and while her story fits in with those of the other girls, there's enough difference in her tale to keep the experience unique. It's almost like reading a different series but not in a disjointed way.
Hayden has the strength of Brittany without the hardness, the sweetness of Kayla without the naivete and the confusion of Lindsey without messing around with people's hearts. Well, she does
a little
, but it's for a selfless cause and the happy ending felt perfect. Daniel, along with being wonderfully swoonworthy, was also believably and alternately withdrawn and engaged. Where some characters might not be able to pull this off, it just makes Daniel all the more attractive.
Per the course of a Dark Guardian novel, there's passionate (PG) romance and a LOT of kissing, but if you weren't looking for something of a YA-guilty-pleasure-lite, why would you be reading this series? I'm not sure
Shadow of the Moon
can be topped (maybe the series should go out on a high note?), but at the same time, I'm really hoping for more about the Shifters.
Title: Shadow of the Moon
Author: Rachel Hawthorne
Genre: Fiction - Supernatural
Year: 2010
Book Source: Purchased