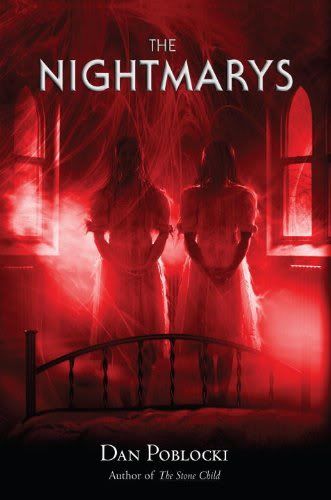 Timothy July has been having nightmares. About his brother, who is in a coma after being wounded in Iraq; about his best friend, Stuart, who is behaving like a jerk; about the old biology specimens in jars lining the walls of his classroom; and about Abigail, the new girl who seems to be a magnet for trouble. Or perhaps she is the cause.

Suddenly Timothy's nightmares are coming true. His brother, his face decaying, approaches Timothy on the street. Stuart ends up in the hospital, terrified that monsters are stalking him. And the specimen jars are tormenting not only Timothy but his teacher as well.

What is the secret in Abigail's past that is the key to these horrors? And can Timothy figure it out before his nightmares become a deadly reality?
[from
Goodreads
]
Rating: 2.5 out of 5 boxes
Target Audience: MG paranormal readers
High point: The characterization
Low point: Male POV
Reader maturity: 10+
I thought
The Nightmarys
was really going to freak me out. I even made sure to start it in the middle of a sunny afternoon so that I'd have time to clear my head before bedtime. As someone who likes being a
leetle
scared sometimes, I was disappointed.
Perhaps the intended audience was younger, but for me,
The Nightmarys
dragged on. It's got a male narrator, a flat supporting cast and a mystery that never grabbed my attention. One redeeming quality is the characterization of the main character, Timothy, and his new friend, Abigail. While I didn't particularly care for being in Timothy's head (I just have this
thing
about male POVs), his confusion and fear are expertly and subtly built up, as is the friendship between the two.
I think I missed the age bracket for this book, but if you're looking for something that straddles the line between MG and YA and has a little bit of a scare factor, this would be a great book to try out. Other than the scary stuff (it's called
The Nightmarys
, after all), it's 100% safe and clean for whoever is old enough to read it.
Title: The Nightmarys
Author: Dan Poblocki
Genre: Fiction - MG
Year: 2010
Book Source: Won from Books and Literature for Teens