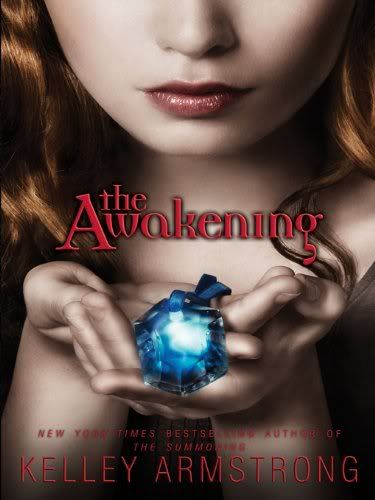 If you had met me a few weeks ago, you probably would have described me as an average teenage girl—someone normal. Now my life has changed forever and I'm as far away from normal as it gets. A living science experiment—not only can I see ghosts, but I was genetically altered by a sinister organization called the Edison Group. What does that mean? For starters, I'm a teenage necromancer whose powers are out of control; I raise the dead without even trying. Trust me, that is not a power you want to have. Ever.
Now I'm running for my life with three of my supernatural friends—a charming sorcerer, a cynical werewolf, and a disgruntled witch—and we have to find someone who can help us before the Edison Group finds us first. Or die trying.
Rating: 4 out of 5 boxes
Target Audience: Anyone who EVER loved ghost stories
High point: All the plot elements
Low point: Everything gets campy if you look at it too closely
Reader maturity: 13+
Wow. I am so glad I stumbled upon this series (or won the first one, whatever...) because it's quickly becoming one of my favorites. I've probably said it before, but I
wish
they had YA like this when I was actually the age that was supposed to be reading YA!
The Awakening
continues all the excitement, drama, mystery and [light] romance of the first in the series, The Summoning. Chloe is a great main character to follow--she's smart, level-headed, a little vulnerable and just clueless enough for the reader to be cheering her on. The other three main characters of this novel--Tori, Derek and Simon--really have a chance to develop, as does their friendship. All of the relationships in this novel feel very organic; there's nothing rushed or false. There are crushes and affections, but no one is falling inexplicably and madly in love with anyone else, which I truly appreciate. That's not to say there's not a touch of romance; it's just that the love storyline feels like it could be real.
Ms. Armstrong has a talent for making the teens' escape pop off of the page, so much so that I almost wish I were accompanying the characters in this escapade. While this is a middle novel and therefore exists mainly to provide a bridge from the introduction of the series to the conclusion,
The Awakening
is a worthwhile read in its own right, although I highly recommend that you be familiar with the series before reading it. It doesn't fall prey to sequel syndrome, but the first novel is necessary to establish the dilemma. If you enjoy YA paranormal even a little bit, this series is definitely worth a try.
Title: The Awakening
Author: Kelley Armstrong
Genre: Fiction - Supernatural
Year: 2009
Book Source: Purchased