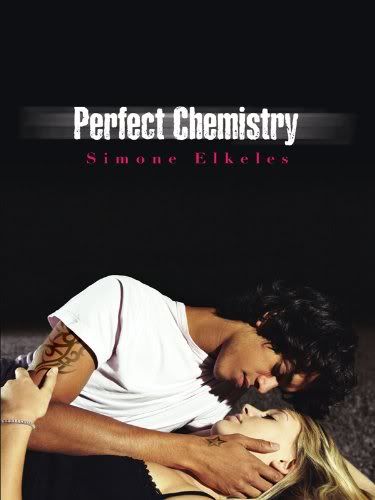 When Brittany Ellis walks into chemistry class on the first day of senior year, she has no clue that her carefully created "perfect" life is about to unravel before her eyes. She's forced to be lab partners with Alex Fuentes, a gang member from the other side of town, and he is about to threaten everything she's worked so hard for—her flawless reputation, her relationship with her boyfriend, and the secret that her home life is anything but perfect. Alex is a bad boy and he knows it. So when he makes a bet with his friends to lure Brittany into his life, he thinks nothing of it. But soon Alex realizes Brittany is a real person with real problems, and suddenly the bet he made in arrogance turns into something much more.

In a passionate story about looking beneath the surface, Simone Elkeles breaks through the stereotypes and barriers that threaten to keep Brittany and Alex apart.
Rating: 3.5 out of 5 boxes
Target Audience: Older teens, YA-romance-reading adults
High point: Brittany, believe it or not...
Low point: The swearing, the adult content
Reader maturity: 18+
Just a heads up--if you've never read YA by Simone Elkeles, be forewarned that it's on the more adult end of the YA spectrum. Other than that, Perfect Chemistry is a really well-written YA romance, full of mistakes and prejudice and redemption and the high that comes from young love.
Ms. Elkeles does a really convincing job of showing the reader Alex's POV. Alex's side of town is something not often encountered in YA. I'll admit that I found myself wondering if that's
really
how someone like Alex would act, but no matter, it's a good read either way. If you've been reading my reviews for a while, you know that I don't like male POVs; that's almost an automatic death sentence for a book. But
Perfect Chemistry
does a great job of balancing Brittany and Alex, and I was just as eager to see Alex's story unfold.
Brittany is a pretty run-of-the-mill blonde cheerleader until the reader gets past her seemingly perfect exterior. She slowly becomes more and more human and shows more strength than anyone thinks she possesses. Her acceptance of Alex is funny, in a cosmic sort of way, and in the end, she's very real.
I read
The Rules of Attraction
before I read
Perfect Chemistry
, and now the sequel makes more sense. And since I knew a little about what was going to happen, that made
Perfect Chemistry
more entertaining. If you're looking for a sweet but not too fluffy YA romance,
Perfect Chemistry
is worth your while. Just be aware of the adult content.
Title: Perfect Chemistry
Author: Simone Elkeles
Genre: Teen Fiction -- Romance & Friendship
Year: 2008
Book Source: Won from Confessions of a Bookaholic