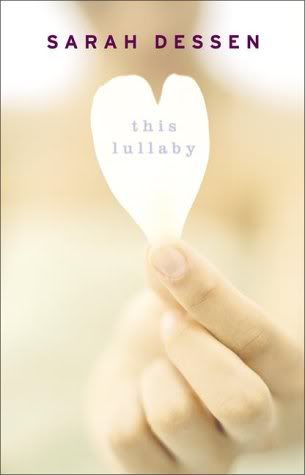 When it comes to relationships, Remy doesn't mess around. After all, she's learned all there is to know from her mother, who's currently working on husband number five. But there's something about Dexter that seems to defy all of Remy's rules. He certainly doesn't seem like Mr. Right. For some reason, however, Remy just can't seem to shake him. Could it be that Remy's starting to understand what those love songs are all about?
Rating: 3 out of 5 boxes
Target Audience: Teens, clean romance readers
High point: The multiple romance plotlines and how they tied together
Low point: Remy is hard to relate to
Reader maturity: 13+
No one writes a YA romance like Sarah Dessen. They're emotional and touching and really, really
real
. Sometimes the message is tough, but some part of it is always applicable.
This Lullaby
wasn't my favorite because Remy is so hard and tough that it was difficult to find a piece of myself in her, but as the novel progressed, she showed a new side of herself, allowing me to empathize and enjoy the story.
Remy has a history as a heart-breaker; she doesn't leave loose ends or her heart behind. Dexter is a complete and total mess that starts to make her wonder if she's missing out on something. I fell for Dexter along with Remy (and her friends). He's a mess, a klutz and total challenge-o-path, but he's sweet and funny and adorably quirky as well. For most of the book, I didn't understand why he pursued Remy so vigilantly, but the reason for that is tied up in the end.
As for the rest of the novel, Remy's friends were good fillers--not too attention-grabbing but not pancake-flat characters either--and the different love stories to support the overarching theme were deftly included. However, I totally called the thing with Remy's 5th (6th?) stepdad. It was very predictable, but no less meaningful. If you enjoy Sarah Dessen or you're looking for a sweet, clean YA romance-drama, you should try out
This Lullaby
.
Title: This Lullaby
Author: Sarah Dessen
Genre: Teen Fiction - Girls & Young Women
Year: 2002
Book Source: Purchased