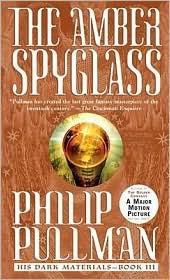 Along with the return of Lyra, Will, Mrs. Coulter, Lord Asriel, Dr. Mary Malone, and Iorek Byrnison the armored bear, come a host of new characters: the Mulefa, mysterious wheeled creatures with the power to see Dust; Gallivespian Lord Roke, a hand-high spymaster to Lord Asriel; and Metatron, a fierce and mighty angel. So, too, come startling revelations: the painful price Lyra must pay to walk through the land of the dead, the haunting power of Dr. Malone's amber spyglass, and the names of who will live—and who will die—for love. And all the while, war rages with the Kingdom of Heaven, a brutal battle that—in its shocking outcome—will uncover the secret of Dust. Philip Pullman deftly brings the cliff-hangers and mysteries of His Dark Materials to an earthshattering conclusion—and confirms his fantasy trilogy as an undoubted and enduring classic.
[Excerpted from
Goodreads
]
Rating: 1 out of 5 boxes
Target Audience: Harry Potter fans, LOTR fans, anyone who wants a fantasy tale in diet form
High point: The world
Low point: Lyra
Reader maturity: 13+
I wrote fairly highly of the first two novels in this series,
The Golden Compass
and
The Subtle Knife
, and had high hopes for the final chapter. Unfortunately, I was disappointed.
The story I found most interesting was Mary Malone's. Had the novel included more about the mulefa and less about Lord Asriel and Metatron, I would've enjoyed it more. In
The Subtle Knife
, I thought Lyra was growing up and had potential as a character (though I preferred Will), but in
The Amber Spyglass
, she is shaken out of her former arrogance but retains her propensity for lying, becoming what I considered a drain to Will. Before being joined by Lyra, Will's story and character made for a good story, but several things about Lyra + Will didn't work for me, particularly the bit about them saving the world. And because I found them interesting before, I wish there had been more of Iorek Byrnison and the armored bears.
I don't know what about this novel didn't work me, if it was because I didn't like the unfolding of the plot or merely the characterization, but
The Amber Spyglass
was not the finale I was hoping for.
Title: The Amber Spyglass
Author: Philip Pullman
Genre: Fantasy Fiction
Year: 2000
Book Source: Purchased