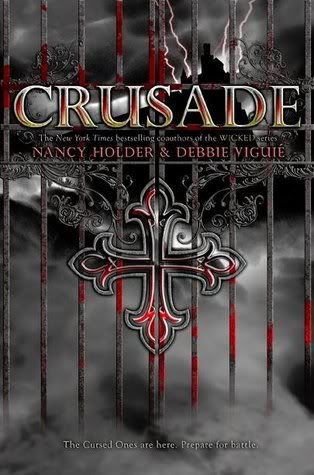 For the past two years, Jenn has lived and trained at Spain's Sacred Heart Academy Against the Cursed Ones. She is among the few who have pledged to defend humanity or die trying. But the vampires are gaining power, and the battle has only just begun.
Forced to return home after death takes a member of her family, Jenn discovers that San Francisco is now a vampire strong-hold. As a lone hunter apart from her team, Jenn is isolated — and at risk. She craves the company of her fighting partner, Antonio: his protection, his reassurance, his touch. But a relationship with Antonio comes with its own dangers, and the more they share of themselves, the more Jenn stands to lose.
Then Jenn is betrayed by one who was once bound to protect her, causing her to doubt all she had held as true. To survive, Jenn must find the courage to trust herself — and her heart.
Rating: 2 out of 5 boxes
Target Audience: Vampire fans who can't get enough
High point: It's a decent vampire novel
Low point: I wasn't impressed or intrigued
Reader maturity: 13+
I think I'm tired of vampire novels. I'm just going to warn you right now that this review may be biased simply because I'm tired of vampires and bored with paranormal posses.
This is the 6th book I've read by Nancy Holder and Debbie Viguie, so obviously I don't dislike their work or writing style. Other than a newly developed disinterest in this type of novel, I'm having trouble putting a finger on what I didn't like.
Crusade
never grabbed my attention, and I felt like I had to force myself to finish it, not because there was anything wrong with it, but...I just couldn't get into it.
One person I liked was Father Juan; he was the perfect mix of mystery and dependability. He had an uncanny but sincere ability to calm his crew and bring out the best in them. Unfortunately, I had a much harder time than Father Juan believing in Jenn, especially when she couldn't believe in herself. Her story, as the "everyman," was supposed to elicit my sympathy, but I couldn't help but want to grab her by the shoulders and shake a spine into her. Due to that reaction, I didn't find the ending plausible.
There was some swearing, but other than that,
Crusade
is clean, so it's suitable for any YA reader who is interested. If you're still high on the vampire/motley crew bandwagon,
Crusade
might be a great read for you. It just didn't happen to work for me.
Title: Crusade
Author: Nancy Holder and Debbie Viguie
Genre: Fiction - Supernatural
Year: 2010
Book Source: Won from The Book Vault