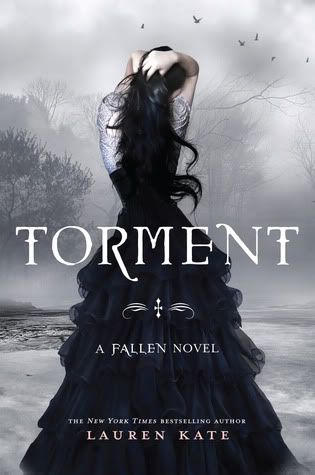 Hell on earth. That's what it's like for Luce to be apart from her fallen angel boyfriend, Daniel. It took them an eternity to find one another, but now he has told her he must go away. Just long enough to hunt down the Outcasts - immortals who want to kill Luce. Daniel hides Luce at Shoreline, a school on the rocky California coast with unusually gifted students -Nephilim, the offspring of fallen angels and humans.

At Shoreline, Luce learns what the Shadows are, and how she can use them as windows to her previous lives. Yet the more Luce learns, the more she suspects that Daniel hasn't told her everything. He's hiding something - something dangerous. What if Daniel's version of the past isn't actually true? What if Luce is really meant to be with someone else? The second novel in the addictive FALLEN series . . . where love never dies.
Rating: 4 out of 5 boxes
Target Audience: Teen girls, 20-somethings, anyone with a hankering for clean paranormal romance
High point: Luce's development as a person
Low point: Daniel
Reader maturity: 13+
Let's start with the cover, shall we? Gorgeous. Absolutely
gorgeous
! (The only thing I don't like is Luce's shirt, which makes me think of a reptilian tattoo every time I look at it. But still gorgeous!) I want that dress.
I fell into the camp that truly enjoyed
Fallen
, so I had a pretty good feeling going into
Torment
. Torment was a very different novel in terms of the type of content. Instead of being driven by the pending battle and Daniel and Luce's eternal romance,
Torment
tackled something that I think a lot of readers wondered about in
Fallen
. Luce realizes that maybe she's tying all her hopes and dreams on someone else's version of her past. She goes a little crazy trying to figure things out, but it all plays out so beautifully. Luce is confused without being angsty, rebellious without being stupid and angry without being hypocritical.
Torment
was so different from what I was expecting--a knock-down, drag-out, action-filled YA romance and filled a lot of the emotional gaps that Luce didn't have time for in the first book. Luce grows as a character, becoming deeper, richer and more independent. Her new friends are as well developed as those in the first novel, if not better because there are fewer of them to keep straight. I have to admit, I'm rooting for a certain someone
else
...
The two teachers at Shoreline are appropriately creepy (surely I am not the only one that found both of them scarily invested...) and provide a terrific, if obvious, parallel to Daniel and Luce.
Torment
was absolutely wonderful, and if you enjoyed
Fallen
,
Torment
will be right up your alley.
Title: Torment
Author: Lauren Kate
Genre: Teen Fiction--Horror & Suspense
Year: 2010
Book Source: Purchased