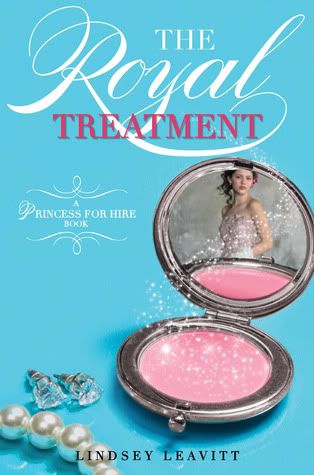 Desi Bascomb's job as a princess substitute has gotten a whole lot more glamorous now that she's advanced to Level 2 within the Facade Agency. Magical make-up, roller-skating celebrities, and the chance to see Prince Karl again are just some of the major perks. Not to mention, she's landed the role of Fairy Queen in her school's production of Midsummer's Night Dream (opposite her best friend's crush. Which is a little weird, but at least he wears a donkey head during their kissing scene).
Life should be perfect, but Desi can't seem to shake the feeling that there is more going on with the agency's magic than she's told. Like why is this mind-bending power exclusive to royals? Is it possible that there could be a bigger way to make an impact in both parts of her life?

Rating: 4.5 out of 5 boxes
Target Audience: Pretend princesses, of course!
High point: Desi, her jobs, the new direction of the series
Low point: There's not as much princess subbing fun
Reader maturity: 13+
The Royal Treatment
is a wonderful addition to the
Princess for Hire
series by Lindsey Leavitt. The sequel is as endearing and engaging as the first and further develops Desi Bascomb's character and employment.
While the first,
Princess for Hire
, was pure enjoyment due to Desi's adventures as a princess, the second explores Desi's feelings about Facade's control of Magic Potential and shows Desi's maturation as a teenage girl and as a substitute princess. I wasn't sure how I felt about that at first, because I was hoping for more princess-of-the-day type mishaps, but after I finished, I think that Ms. Leavitt made the right choice in advancing Desi's character rather than solely providing vignettes of Desi's duties.
Desi is still the same lovable, thoughtful Desi of
Princess for Hire
. As her experiences increase in number and she finds out Facade's little quirks and mysteries, she begins to wonder about the morality of Facade's actions. She approaches their all-powerful position with the proper respect and a healthy dose of rationality. Genevieve is the perfect ambiguous character and thus the perfect head of Facade. Like Desi, the reader is left wondering whether Facade is right to hold such a tight grip on people with MP, among Facade's other could-be-right, could-be-wrong actions.
I don't want to ruin it so I'll just say that I absolutely loved what happened with Desi and Reed. Desi's best friend also gets a slightly bigger role this time around, and she's just as awesome as Desi.
The Royal Treatment
was missing some of the glee that accompanied
Princess for Hire
, but it's still a great sequel, which is why I rated it so highly even though I was a little disappointed. I'm really excited to see what else Desi will accomplish in her time as a sub.
Title: The Royal Treatment
Author: Lindsey Leavitt
Genre: Fiction - Fantasy
Year: 2011
Book Source: Received an e-copy of an ARC for review