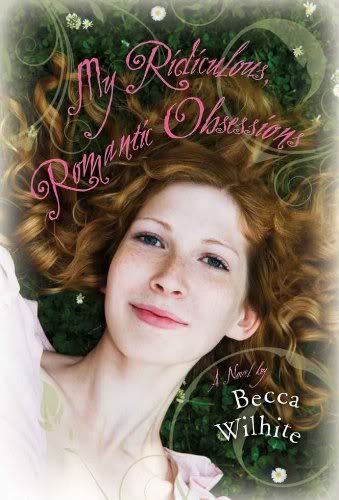 Sarah Howard's first year at the university is everything and nothing she expected especially when a very cute boy named Ben in her Art History class starts to show interest in her.

Sarah feels like she's an average, normal, everyday girl. So, when Ben (to whom she secretly refers as Adonis because she thinks he could be a Greek god) begins to take interest in her, Sarah is in denial. For one thing, last year she was deeply crushed and humiliated by Jesse James a guy who she thought liked her.

She's determined not to get burned again. But in her heart of hearts, what she really wants is a Jane Austen kind of romance. Ridiculous, right? That kind of romance doesn t exist anymore . . . or does it? Sarah is smart and fun to be around and even pretty, despite her Medusa-like red curls. She even plays the guitar. (So does Ben!) Yes, Sarah is everything Ben has wanted. He's crazy for her, but Sarah is just not getting it. She's playing hard to get, and if she s not careful, she s going to lose a real hot gentleman -- her 21st-century Mr. Darcy.
[from
Goodreads
]
Rating: 3 out of 5 boxes
Target Audience: Anyone wanting a sweet love story
High point: The neurotic Sarah
Low point: It's fluffy
Reader maturity: 13+
The thing I admire most about
My Ridiculous, Romantic Obsessions
is that it pretends to be nothing more and nothing less than it is--a sweet, adorable, ridiculous romance from cover to cover.
In
My Ridiculous, Romantic Obsessions
, Sarah (she of the Ridiculous Romantic Obsessions) deals with the bliss and trials of first love, all the while pining for a life like a heroine in a romance novel. I'm not a fan of (i.e. have never read) a romance novel of the type Sarah reads (bodice rippers, by the sound of it), so I was a little concerned about the implications of her enthusiasm. However,
MRRO
is perfectly aboveboard and sweet, and I really enjoyed it.
Sarah was a bit dense regarding her crush, the Adonis Ben, but even as she was making mistake after mistake, I understood where she was coming from. Ms. Wilhite sets her up as an innocent with low self esteem rather than a clueless ninny. Aside from her inability to carry on one half of a successful relationship, Sarah has a lot of things going for her, like brains and great friendships, that give her depth. I had a little trouble believing in Ben's patience and pursuit, but I'm willing to engage in a flight of fancy for a fun afternoon read. Ben and Sarah's relationship was well-constructed, with love-at-first-sight excitement followed by actual, slow-moving substance. Their attraction is obvious and natural.
After finishing
MRRO
, I was left with a pleasant and slightly wistful feeling. It's the perfect light YA romance to wile away a few hours.
Title: My Ridiculous, Romantic Obsessions
Author: Becca Wilhite
Genre: YA - Romance
Year: 2010
Book Source: Won--not sure from where