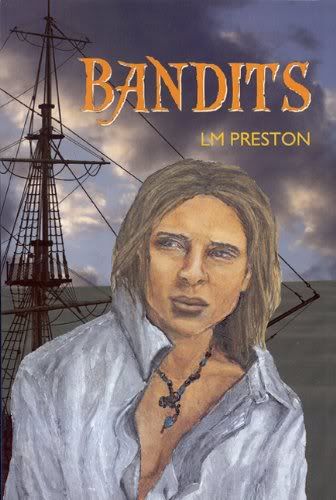 Daniel's father has gotten himself killed and left another mess for Daniel to clean up. To save his world from destruction, he must fight off his father's killers while discovering a way to save his world. Time is running out, and Daniel must choose to either walk in his father's footsteps or to reinvent himself into the one to save his world.
[from
Goodreads
]
Rating: 4 out of 5 boxes
Target Audience: Teens, Martian maniacs
High point: All the cool off-world species and gadgets
Low point: Jade
Reader maturity: 13+
Bandits
is a fun-filled, action-packed, off-world, pirate-y adventure. Along with strange creatures, science fiction and evil villains, it has endearing characters, blossoming relationships and loyal friends.
Bandits
is
such
a cool conglomeration of genres and themes. It's sci-fi, mixed with fantasy, mixed with romance, and of course, it's YA (although there is quite a bit of mature language so be warned). I loved the idea of the book--treasure-hunting--and it's made even more exciting by adding in the element of space travel and colonization. LM Preston's imagination really shines in all the cool gadgets and neat new species. My favorite was the gelfish, which can be used to make anyone or anything flame-resistant. Her imagination also sparkles with the trials that Daniel and his friends are forced to go through to save their planet and the pakeet. Every twist and turn had something new and unique waiting to challenge them. From the first chapter to the last,
Bandits
is filled with page-turning action, and I couldn't wait to find out what happened next.
While most of the characters (and their relationships) are very natural, I had trouble wrapping my head around Jade. For the first few chapters, I thought she was 12 and was concerned about the older boys' interest in her. When she announced she was 16, I couldn't believe it, although I was quite relieved regarding the boys' attraction. Her personality finds a more even keel in the last third of the book, but her vacillating maturity in the beginning was distracting. At the end, when everything comes together, she really rounds out the group as an awesome character, and she proves her worth as a fighter.
Bandits
is a great book for all YA readers (albeit the older ones due to the aforementioned language). With a little romance and a lot of action, there's something for everyone.
Title: Bandits
Author: LM Preston
Genre: Teen Fiction -- Romance & Friendship
Year: 2011
Book Source: Received from publisher for review