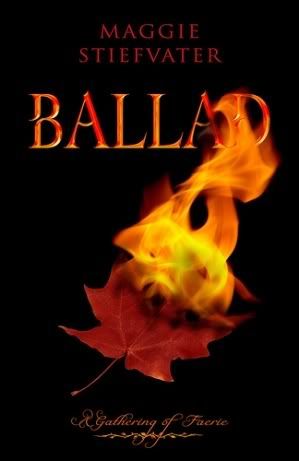 In this mesmerizing sequel to Lament: The Faerie Queen's Deception, music prodigy James Morgan and his best friend, Deirdre, join a private conservatory for musicians. James' musical talent attracts Nuala, a soul-snatching faerie muse who fosters and feeds on the creative energies of exceptional humans until they die. Composing beautiful music together unexpectedly leads to mutual admiration and love. Haunted by fiery visions of death, James realizes that Deirdre and Nuala are being hunted by the Fey and plunges into a soul-scorching battle with the Queen of the Fey to save their lives.
Rating: 3 out of 5 boxes
Target Audience: Anyone, even the faerie-resistant
High point: The completely different angle (from Lament)
Low point: Clingy Nuala
Reader maturity: 13+
Ballad
is the sequel to
Lament
, my first foray (in a long time) into the world of Faerie. While it explores some of the same topics and is certainly a decent novel in its own right, I much prefer the story of
Lament
.
For starters,
Ballad
follows James, who was a cool enough character in
Lament
but didn't interest me enough to carry
Ballad
. I also found Nuala to be quite clingy and desperate. Even as Deirdre (the main character from
Lament
, pining after Luke) is falling apart, she still seems like a stronger, more likable person to me than Nuala. I also didn't understand how everyone could just run after the Horned King every night without anyone noticing. Or how a 16 year old boy could be so good at the bagpipes that no one can teach him. Or that no one notices something's wrong with Deirdre. Or that James would be so cold to her. I know he's mad, but she did...[spoiler alert for
Lament
] save his life!
And there's so much subterfuge that results in a very inefficient ending. Don't get me wrong, it was a great ending, but the lead-up to it felt wasted, like this was an ending for a different story; I was expecting something totally different.
One thing that I
did
really like about
Ballad
is that it explores a completely different angle than
Lament
while still centering around faeries, so while it's a sequel, it doesn't simply regurgitate the events of
Lament
. The background information is seamlessly included, and I was fascinated by all the castes and legends.
Whatever my nitpicking complaints may be, Maggie Stiefvater is obviously very talented, and while I enjoyed
Lament
more than
Ballad
,
Ballad
is still a strong tale with interesting mythology.
Title: Ballad: A Gathering of Faerie
Author: Maggie Stiefvater
Genre: Teen Fiction - Faeries
Year: 2009
Book Source: Won from The Serpentine Library