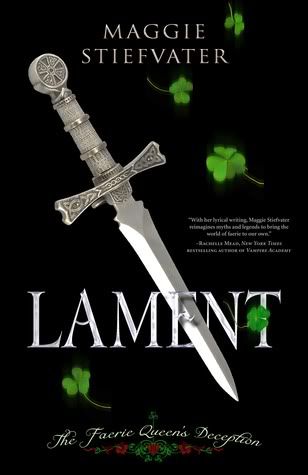 Sixteen-year-old Deirdre Monaghan is a painfully shy but prodigiously gifted musician. She's about to find out she's also a cloverhand—one who can see faeries. Deirdre finds herself infatuated with a mysterious boy who enters her ordinary suburban life, seemingly out of thin air. Trouble is, the enigmatic and gorgeous Luke turns out to be a gallowglass—a soulless faerie assassin. An equally hunky—and equally dangerous—dark faerie soldier named Aodhan is also stalking Deirdre. Sworn enemies, Luke and Aodhan each have a deadly assignment from the Faerie Queen. Namely, kill Deirdre before her music captures the attention of the Fae and threatens the Queen's sovereignty. Caught in the crossfire with Deirdre is James, her wisecracking but loyal best friend. Deirdre had been wishing her life weren't so dull, but getting trapped in the middle of a centuries-old faerie war isn't exactly what she had in mind . . .
Rating: 4 out of 5 boxes
Target Audience: Anyone, even the faerie-resistant
High point: How engrossing the story was
Low point: The threat of a love triangle
Reader maturity: 13+
I didn't think I liked faerie books. With the exception of
The Iron King
(which I liked, btw), I don't think I'd read any, but faeries are mean and I don't like books with mean people but...wow! After languishing on my shelf for almost a year,
Lament
totally changed my mind, leading me to dive into the sequel,
Ballad
, and an unrelated novel,
Illusions
, but more on those in another post.
Lament
has all the makings of a great YA paranormal--swoonworthy, mysterious crush, not-too-painful love triangle, girl being hunted by supernatural beings, evil aunt!...it was all there.
Normally, I don't like love triangles, but Dierdre wasn't an active part of this one, i.e. she wasn't stringing anyone along on purpose, and once she figured out the truth, she was as kind as possible. And the swoonworthy, mysterious crush had me in his spell as well. Looking at it in hindsight, he should've been kinda creepy and weird, but in the novel, he comes off as sweet and romantic, if a bit tragic and tortured. Dierdre was great, what with the stage fright and confusion. Like Luke, she's not too perfect or too imperfect in any way, and she handles her new situation with realism and understandable emotions.
Another thing I really enjoyed (and I might go so far as to say this
made
the book)--the Celtic faerie mythology is awesome. It's a little different than what I'm used to reading about, and it was incredibly vibrant and detailed without feeling contrived. Consider me impressed.
There are some lightly crude moments (do we really need to know that much about vomit?), but other than that,
Lament
is a clean and page-turning read. Overall, I was really impressed and now that I've torn through
Lament
and
Ballad
, I'm diving into
Shiver
next.
Title: Lament: The Faerie Queen's Deception
Author: Maggie Stiefvater
Genre: Teen Fiction - Faeries
Year: 2008
Book Source: Won from The Serpentine Library