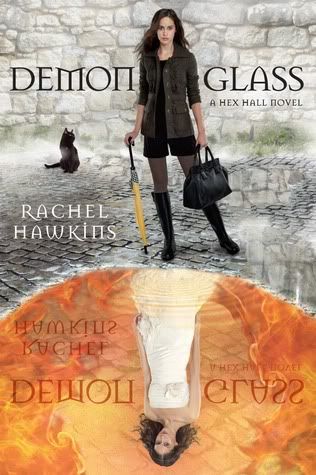 Sophie Mercer thought she was a witch.

That was the whole reason she was sent to Hex Hall, a reform school for delinquent Prodigium (aka witches, shapeshifters, and fairies). But that was before she discovered the family secret, and that her hot crush, Archer Cross, is an agent for The Eye, a group bent on wiping Prodigium off the face of the earth.

Turns out, Sophie's a demon, one of only two in the world—the other being her father. What's worse, she has powers that threaten the lives of everyone she loves. Which is precisely why Sophie decides she must go to London for the Removal, a dangerous procedure that will destroy her powers.

But once Sophie arrives she makes a shocking discovery. Her new friends? They're demons too. Meaning someone is raising them in secret with creepy plans to use their powers, and probably not for good. Meanwhile, The Eye is set on hunting Sophie down, and they're using Archer to do it. But it's not like she has feelings for him anymore. Does she?
Rating: 4.5 out of 5 boxes
Target Audience: Fans of Firespell, paranormal and boarding school stories
High point: The complete package
Low point: Archer
Reader maturity: 13+
This was entirely unintentional, but it turns out that
Demonglass
shares its high and low points with
Hex Hall
. Overall, it's a fantastic book, but I can't stand Archer!
While I rated
Hex Hall
highly, it was missing an emotional component for me;
Demonglass
, however, grabbed hold of me and made me a fan. Something about
Demonglass
just popped for me; it's got almost all the same elements as
Hex Hall
--sans the actual Hex Hall--but the story feels a lot deeper, and I was much more invested in Sophie's existence than I was in the previous book.
Her friendships, her relationship and her life are all tested and she handles them with classic Sophie Mercer wit, which is a perfect balance of humor and sarcasm, so she makes the book fun to read from her POV. I didn't quite buy her relationship with her dad (it went a little more smoothly than I can believe), but that storyline and the addition of his character gave the story a great new direction. He also gives Sophie some stable ground as she tries to figure out the whole descended-from-a-demon thing, and his presence really enriches that aspect of Sophie's life.
Cal is, of course, swoonworthy and amazing, and even Jenna gave me a reason to keep reading ( I thought she was emo and a little annoying in
Hex Hall
). Some of the other characters are a bit predictable but are nonetheless well-developed and able to invoke sympathy and joy from the reader at the appropriate time. The big sticking-point for me with
Demonglass
is Archer. Plot? Check. Characters? Check. Writing? Check. Bad boy/possible villain/supposed-to-be-the-swoonworthy-one guy? Ehhh...not so much. I am squarely Team Cal. Archer is kinda mean and snooty and there's that bad-guy thing (not to be confused with bad-boy thing, which I think he TRIES to have going on, but...he doesn't). Yeah, I'm no fan of Archer or Sophie's obvious attraction to him.
Other than Archer, though,
Demonglass
is a fabulous second novel in the Hex Hall series, and I can't wait for the next one!
(And, this has nothing to do with the story, but I love that the
Demonglass
cover mirrors the one for
Hex Hall
. They're amazing!)
Title: Demonglass
Author: Rachel Hawkins
Genre: Fiction - Supernatural
Year: 2011
Book Source: Purchased