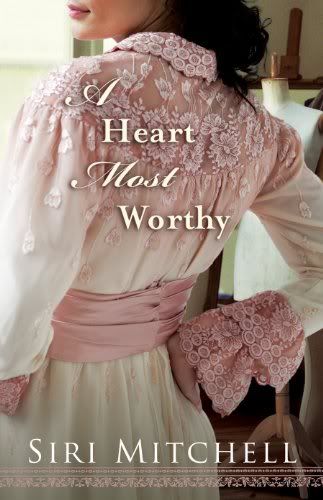 The elegance of Madame Forza's gown shop is a far cry from the downtrodden North End of Boston. Yet each day Julietta, Annamaria, and Luciana enter the world of the upper class, working on finery for the elite in society. The three beauties each long to break free of their obligations and embrace the American dream—and their chance for love. But the ways of the heart are difficult to discern at times. Julietta is drawn to the swarthy, mysterious Angelo. Annamaria has a star-crossed encounter with the grocer's son, a man from the entirely wrong family. And through no intent of her own, Luciana catches the eye of Billy Quinn, the son of Madame Forza's most important client. Their destinies intertwined, each harboring a secret from their families and each other, will they be found worthy of the love they seek?
Rating: 2.5 out of 5 boxes
Target Audience: Historical fiction fans
High point: Learning about a society debut
Low point: Confused Clara
Reader maturity: 13+
It's taken me a long time to get around to writing my review because I'm not sure what to say. I
wanted
to love this book; I really, really did. I so thoroughly enjoyed Siri Mitchell's
She Walks in Beauty
that I leapt at the chance to review
A Heart Most Worthy
. Unfortunately, it didn't possess the same charm and beauty as its predecessor.
A Heart Most Worthy
follows three shopgirls of completely different personalities and backgrounds, joining them as they navigate family, life and love. My favorite is Annamaria; she's sweet and kind and is learning when it's good to be rebellious. My least favorite is Julietta, by far; I found her to be dense and selfish, rather than fiery and passionate, and she made it hard for me to connect with her. Because the book is written from several points of view, Julietta also made it hard for me to connect with the other characters because every time I read through one of her sections, she yanked me out of the illusion.
While
A Heart Most Worthy
wasn't really my kind of book, I still enjoyed learning about Italian immigrants in America. I didn't realize that the people we consider to be Italians considered themselves to be grouped by region, not country, e.g. Sicilians, Avellinos, Calabrese. The little nuances of Italian life were also surprising and unique touches to the novel.
Siri Mitchell is, without doubt, an excellent writer, but this book just didn't appeal to me the way I'd hoped it would. However, if you like historicals and Christian fiction (this one is much more religious than
She Walks in Beauty
), then
A Heart Most Worthy
would be worth picking up.
Title: A Heart Most Worthy
Author: Siri Mitchell
Genre: Christian Historical Fiction
Year: 2011
Book Source: Received for review from Bethany House Publishers