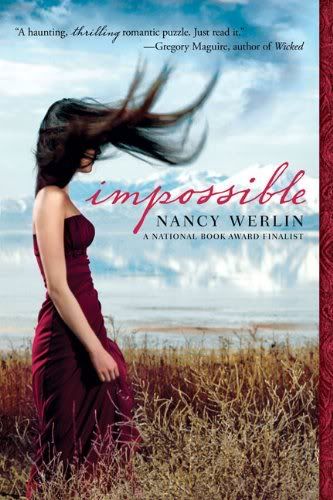 Lucy has nine months to break an ancient curse in order to save both herself and her unborn daughter. Inspired by the ballad "Scarborough Fair," this riveting novel combines suspense, fantasy, and romance for an intensely page-turning and masterfully original tale.
Lucy is seventeen when she discovers that the women of her family have been cursed through the generations, forced to attempt three seemingly impossible tasks or to fall into madness upon their child's birth. But Lucy is the first girl who won't be alone as she tackles the list. She has her fiercely protective foster parents and her childhood friend Zach beside her. Do they have love and strength enough to overcome an age-old evil?
Rating: 2 out of 5 boxes
Target Audience: Paranormal/contemporary fans
High point: The premise
Low point: How uncomfortable it made me
Reader maturity: 15+
Ever since I read the premise for
Impossible
, I knew I
had
to read it. I finally rescued an ARC and jumped in. The strongest feeling I have about
Impossible
is how uncomfortable it made me. I didn't notice any faults with writing or characterization and I still find the plot interesting, but every page turned with a bit of a grimace, knowing I was subjecting myself to another hundred words of awkwardness.
I can't really explain why, whether it's due to the creepy Padraig Seeley or the means by which Lucy finds herself with child or if it's because she's so young and just takes it all (the craziness, the Elfin King, the pregnancy) in stride. Even though I was intrigued by Lucy's solutions to the riddles and thought her family was incredibly developed and supportive, something about
Impossible
just really bothered me.
I'm still interested in Nancy Werlin's work and would like to try
Extraordinary
. Hopefully, it will be a much more pleasant read.
Title: Impossible
Author: Nancy Werlin
Genre: Teen Fiction - Girls & Young Women
Year: 2008
Book Source: Purchased