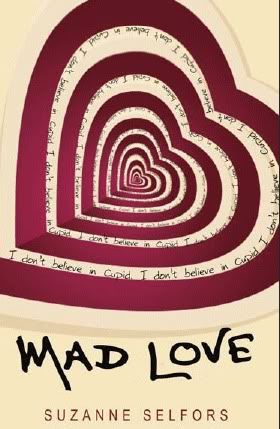 When you're the daughter of the bestselling Queen of Romance, life should be pretty good. But 16-year-old Alice Amorous has been living a lie ever since her mother was secretly hospitalized for mental illness. After putting on a brave front for months, time is running out. The next book is overdue, and the Queen can't write it. Alice needs a story for her mother—and she needs one fast.
That's when she meets Errol, a strange boy who claims to be Cupid, who insists that Alice write about the greatest love story in history: his tragic relationship with Psyche. As Alice begins to hear Errol's voice in her head and see things she can't explain, she must face the truth—that she's either inherited her mother's madness, or Errol is for real.
Rating: 2 out of 5 boxes
Target Audience: Contemporary fans
High point: The sensitive representation of bipolar disorder
Low point: Alice's "friends" and Cupid
Reader maturity: 13+
While I appreciate Suzanne Selfors' respectful portrayal of bipolar disorder and the effect that it can have on a family,
Mad Love
didn't do much for me in the way of literary entertainment. I quickly grew weary of Alice and her lies and didn't believe for a second that so many people who supposedly loved her (and knew her situation) would lie
for
her and allow a teenage girl to live on her own, dealing with money and legal problems
on her own
. The character of Cupid was also incredibly depressing, and I flip-flopped between annoyance and pity for him.
On the more positive side of things, the writing had the ability to make me genuinely feel sorry for Alice and everything she was struggling with--the lies, her trouble ceding responsibility and the alienation she experienced. I was glad she had a few people around who cared about her, but I was really, really mad at them for allowing her to go through what she did. Alice is a child, and she shouldn't have to act like an adult, especially when there are adults around who know what's going on. The portrayal of Alice's mother is approached with sensitively and neutrality, which I admired. But as for all the other people in Alice's life--!
If you're looking for a love story or a fun summer read, look elsewhere.
Mad Love
is a serious (albeit with the addition of Cupid) look at the effect of bipolar disorder on families and their loved ones.
Title: Mad Love
Author:
Suzanne Selfors
Genre: Teen Fiction - Girls & Young Women
Year: 2011
Book Source: Won