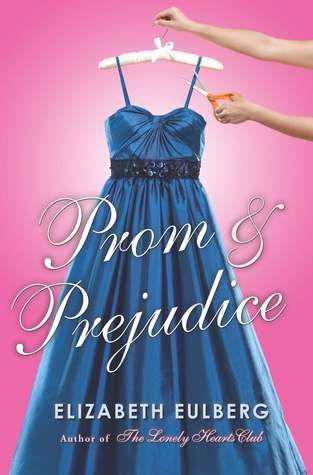 After winter break, the girls at the very prestigious Longbourn Academy become obsessed with the prom. Lizzie Bennet, who attends Longbourn on a scholarship, isn't interested in designer dresses and expensive shoes, but her best friend, Jane, might be — especially now that Charles Bingley is back from a semester in London.
Lizzie is happy about her friend's burgeoning romance but less than impressed by Charles's friend, Will Darcy, who's snobby and pretentious. Darcy doesn't seem to like Lizzie either, but she assumes it's because her family doesn't have money. Clearly, Will Darcy is a pompous jerk — so why does Lizzie find herself drawn to him anyway?
Will Lizzie's pride and Will's prejudice keep them apart? Or are they a prom couple in the making? Whatever the result, Elizabeth Eulberg, author of The Lonely Hearts Club, has concocted a very funny, completely stylish delight for any season — prom or otherwise.
Rating: 2.5 out of 5 boxes
Target Audience: P&P junkies
High point: The new...Caroline Bingley!
Low point: The constraint of following the original P&P
Reader maturity: 13+
The Good: Elizabeth Eulberg is a great writer--her characters are incredibly down-to-earth, a little flawed, and have a very human element. Her books are funny and insightful and are a really great way to spend an afternoon.
Prom & Prejudice
is an updated take on
Pride & Prejudice
(betcha never saw that one coming!) that brings the classic tale into the 21st century. The main character, scholarship student, Lizzie Bennet, is hard-working and sensible, as well as loyal to a fault to her best friend, Jane, and mean girl Caroline is a great re-imagining of the original Caroline Bingley.
The Not-So-Good: In an attempt to parallel
Prom & Prejudice
with
Pride & Prejudice
, the story felt a little constrained and the characters seemed limited, especially Will Darcy and Jane. To me, Lizzie's assumptions in
Pride & Prejudice
were merely mistakes, made innocently enough but proved wrong in the end. In
Prom & Prejudice
, it felt like Lizzie kept making the same erroneous assumptions about Darcy and Wickham without learning anything.
I really, really wanted to love
Prom & Prejudice
because of how much I enjoyed Elizabeth Eulberg's
The Lonely Hearts Club
, but a few things kept it from being as charming as I'd hoped.
Title: Prom & Prejudice
Author: Elizabeth Eulberg
Genre: Fiction - Contemporary
Year: 2011
Book Source: Won from Consumed by Books