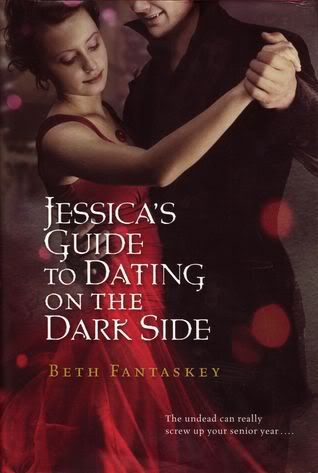 The undead can really screw up your senior year ...
Marrying a vampire definitely doesn't fit into Jessica Packwood's senior year "get-a-life" plan. But then a bizarre (and incredibly hot) new exchange student named Lucius Vladescu shows up, claiming that Jessica is a Romanian vampire princess by birth—and he's her long-lost fiancé. Armed with newfound confidence and a copy of Growing Up Undead: A Teen Vampire's Guide to Dating, Health, and Emotions, Jessica makes a dramatic transition from average American teenager to glam European vampire princess. But when a devious cheerleader sets her sights on Lucius, Jess finds herself fighting to win back her wayward prince, stop a global vampire war—and save Lucius's soul from eternal destruction.
Rating: 4 out of 5 boxes
Target Audience: Supernatural fans who tire of the usual vampire novel
High point: The uniqueness
Low point: The cheesy ending
Reader maturity: 13+
I thought that
Jessica's Guide to Dating on the Dark Side
was going to be a read-once, throwaway novel, but I was so, so wrong.
JGDDS
even managed to banish the vampire-novel ennui that's been creeping up on me. In short, I was hooked.
What I love most about
JGDDS
--other than the title--is the tongue in cheek tone, most aptly summarized in the title of the fictitious novel-within-a-novel, Growing Up Undead.
JGDDS
isn't a comedy, but it doesn't take itself seriously, even though it got pretty intense at times. The coming war and violent past are counterbalanced by Jessica's eco-fanatic parents and her best friend.
Jessica is my favorite type of YA heroine--smart, down-to-earth, and not afraid to stand up for herself (usually). Her intended, the pompous Lucius, is every bit the cliche vampire--at first. Slowly, the layers of his vampiric psyche are peeled away, revealing the most human vampire I've ever read about.
The ending was kinda cheesy (it brought the movie, Van Helsing, to mind, actually) and I wish it had been a little less over-the-top, but I got the ending I wanted (eventually). The book actually felt like it was going to end several times, so more than once, I checked to see how many chapters I had left. I didn't want
JGDDS
to end!
Title: Jessica's Guide to Dating on the Dark Side
Author: Beth Fantaskey
Genre: Fiction - Supernatural
Year: 2009
Book Source: Purchased