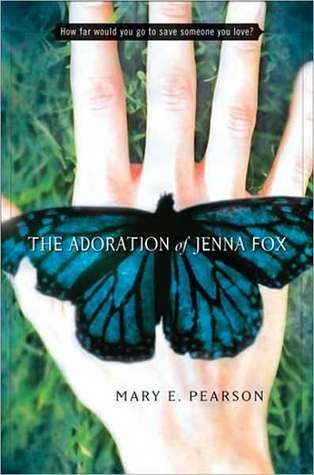 Who is Jenna Fox? Seventeen-year-old Jenna has been told that is her name. She has just awoken from a coma, they tell her, and she is still recovering from a terrible accident in which she was involved a year ago. But what happened before that? Jenna doesn't remember her life. Or does she? And are the memories really hers?
This fascinating novel represents a stunning new direction for acclaimed author Mary Pearson. Set in a near future America, it takes readers on an unforgettable journey through questions of bio-medical ethics and the nature of humanity. Mary Pearson's vividly drawn characters and masterful writing soar to a new level of sophistication.
Rating: 3.5 out of 5 boxes
Target Audience: Science fiction readers who want a little heart
High point: The questions that arise
Low point: Abrupt ending
Reader maturity: 13+
The Adoration of Jenna Fox
reminds me most of
By the Time You Read This, I'll Be Dead
, which strikes me as a little strange because
By the Time You Read This, I'll Be Dead
is heavily concerned with death and
The Adoration of Jenna Fox
is all about choosing life.
It's poignant and insightful, giving little glimpses into a dystopian/utopian (depending on your point of view) society who-knows-how-many years into the future. Through the events of Jenna's post-accident life, question after question about ethics and politics arise. There are no answers, but the beauty is in the asking.
Ms. Pearson does a fabulous job, not only of encouraging her readers to think (
without
pushing any particular agenda), but of showing the expansion of Jenna's memory. I even flipped back through the back to make sure my impression was right, and it was--In the beginning, when Jenna's memories are few, the prose is short and choppy, very stream of limited conciousness, and as Jenna regains more awareness of her past, the writing becomes more fluid and complex. The transition in writing style, especially as an emphasis of Jenna's state, is brilliant.
Along with being a terrific, albeit serious, novel,
The Adoration of Jenna Fox
would also be a great book to spark discussion about life, death and new beginnings.
Title: The Adoration of Jenna Fox
Author: Mary E. Pearson
Genre: YA - Science Fiction
Year: 2008
Book Source: Purchased