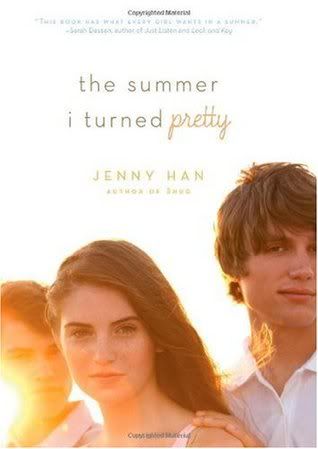 Belly measures her life in summers. Everything good, everything magical happens between the months of June and August. Winters are simply a time to count the weeks until the next summer, a place away from the beach house, away from Susannah, and most importantly, away from Jeremiah and Conrad. They are the boys that Belly has known since her very first summer--they have been her brother figures, her crushes, and everything in between. But one summer, one terrible and wonderful summer, the more everything changes, the more it all ends up just the way it should have been all along.
Rating: 3.5 out of 5 boxes
Target Audience: Anyone wanting a summery love story
High point: Belly
Low point: The love triangle
Reader maturity: 13+
Like everyone else that I know about that's read
The Summer I Turned Pretty
, I thought it was fantastic.There were things I didn't like, of course, because I'm picky like that, but overall, it's a gorgeously written summer read.
It seems a little backwards, but let's start with what I
didn't
like and move on from there.
I don't like love triangles.
Not. At. All.
They're always cruel to
someone
, and usually the girl (because it's never one guy and two girls...) ends up picking a different guy than I wanted her too. And the girl's usually wishy-washy and doesn't seem at all fazed that she's messing with people's
hearts
.
Yeah, Belly's kind of like that. She doesn't think she's much of a looker, but she sure knows how to twist the boys around her little finger.
That's
what I didn't like. Belly, in all other respects, is a perfectly good main character, but with that love...[insert a multi-cornered geometric shape of your choice], my patience wore thin.
Something about Belly is charming though, and the rest of the book more than makes up for Belly's shortcomings, which, aside from stealing hearts, also included a penchant for pouting. But Belly's young in this novel and her brother and Conrad and Jere make her feel like the baby sister tagging along so I can sympathize a bit. Even with their teasing, Belly does a great job of representing the awkwardness of the teenage years without making me cringe.
[Spoiler alert!] Speaking of the boys...I love Jere. He was so cute and snuggly (yes, snuggly!) and adorable that I was rooting for him the whole time. Conrad, on the other hand...maybe he was just hiding a crush on Belly the whole time, but he was mean to her. Even in the anecdotes where Belly's recollecting how he stood up for her, he was kind of a jerk and NOT just in the last summer...So that ruined some things for me...[End spoiler]
The exposition is amazing, like waves crashing on the beach, just a little new information being uncovered each time. It's gentle but very revealing. I found myself looking at my teenage summers through Belly's lens.
The Summer I Turned Pretty
is a very beautiful novel, not in descriptions, because there weren't many that I recall, but in its exploration of childhood and the journey of leaving youth behind. With the exception named above, I loved
The Summer I Turned Pretty
and can't wait to read the sequel,
It's Not Summer Without You
, which I conveniently have sitting on my shelf.
Title: The Summer I Turned Pretty
Author: Jenny Han
Genre: YA - Romance
Year: 2009
Book Source: Purchased