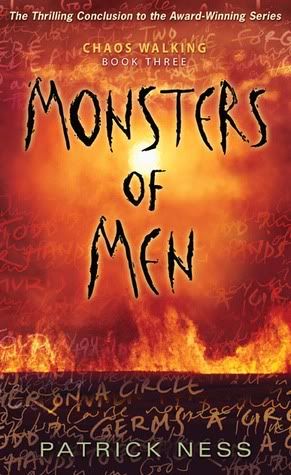 "War," says the Mayor. "At last." Three armies march on New Prentisstown, each one intent on destroying the others. Todd and Viola are caught in the middle, with no chance of escape. As the battles commence, how can they hope to stop the fighting? How can there ever be peace when they're so hopelessly outnumbered? And if war makes monsters of men, what terrible choices await? But then a third voice breaks into the battle, one bent on revenge - the electrifying finale to the award-winning "Chaos Walking" trilogy, Monsters of Men is a heart-stopping novel about power, survival, and the devastating realities of war.
Rating: 5 out of 5 boxes
Target Audience: Light sci-fi and fantasy fans
High point: Viola, the mistresses, Todd, the Mayor...the ending!
Low point: Nothing...it was perfect
Reader maturity: 13+
Monsters of Men
is a brilliant and stunning conclusions to the Chaos Walking trilogy. I
LOVED
it!
I was a little unsure about
The Knife of Never Letting Go
, Viola's perspective made
The Ask and the Answer
much more interesting, and everything culminated in an emotional, action-packed, thought-provoking
Monsters of Men
. I couldn't have asked for a better ending to the series.
Everything that made the first two so poignant and individual appears in
Monsters of Men
. Todd questions his existence, the mayor, his choices, the Spackle; he's very conflicted, and even though he frequently makes what turns out to be the wrong decision, his heart is noble and he's honestly trying to be a good man. Viola has some parallel issues this time around. Todd's introspection (and to an extent, Viola's) could have veered into woe-is-me territory, but instead, the reader sympathizes with Todd, understands and aches to help him. What's right? What's wrong? Sometimes the line is so blurred, it's hard to tell. Is doing a small bad thing still wrong if it prevents something worse from happening?
Every time I turned a page, I held my breath, hoping that sanity and common sense would prevail
somewhere
. I was on tenterhooks every time Mistress Coyle, the Mayor or the Sky launched another attack. The battle scenes were fantastically written, expressing the chaos and utter madness.
I don't usually like endings like the one in
Monsters of Men
(and I'm not going to spoil it for you so it's hard to explain), but it fit so beautifully that instead of being annoyed by it, I embraced it. It's perfect. I'm amazed at how all the events culminated in such an explosive event. Patrick Ness' skill as a writer is unmatched, and if you haven't read Chaos Walking yet, I highly,
highly
recommend it. (And even if you don't
love
the 1st book, stick it out. Each book is better than the last!)
Title: Monsters of Men
Author: Patrick Ness
Genre: Teen Fiction - Science Fiction
Year: 2010
Book Source: Won from Lori's Reading Corner