Here are my top 5 anticipated releases for 2012, as part of the Top 5 Challenge hosted by
Princess Bookie
.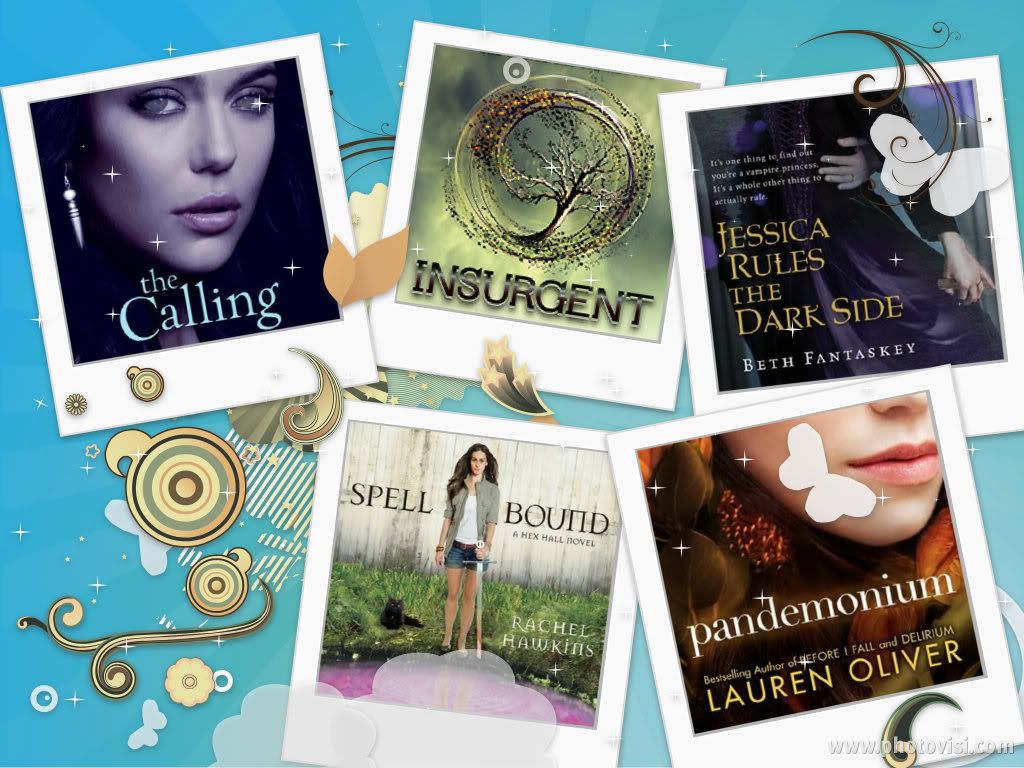 1.
The Calling by Kelley Armstrong.
I haven't read this series yet, but I love
The Summoning
,
The Awakening
and
The Reckoning
.
"Maya Delaney's paw-print birthmark is the sign of what she truly is a skin-walker. She can run faster, climb higher, and see better than nearly anyone else. Experiencing intense connections with the animals that roam the woods outside her home, Maya knows it's only a matter of time before she's able to Shift and become one of them. And she believes there may be others in her small town with surprising talents.

Now, Maya and her friends have been forced to flee from their homes during a forest fire they suspect was deliberately set. Then they're kidnapped, and after a chilling helicopter crash, they find themselves in the Vancouver Island wilderness with nothing but their extraordinary abilities to help them get back home. Plentiful action and romance in this second installment in the Darkness Rising series will keep readers enthralled to the very last page." --Goodreads
2. Insurgent by Veronica Roth. YAY!!!! I love, love, love Divergent, so I'm super excited about the sequel! And the cover is pretty
"One choice can transform you—or it can destroy you. But every choice has consequences, and as unrest surges in the factions all around her, Tris Prior must continue trying to save those she loves—and herself—while grappling with haunting questions of grief and forgiveness, identity and loyalty, politics and love.

Tris's initiation day should have been marked by celebration and victory with her chosen faction; instead, the day ended with unspeakable horrors. War now looms as conflict between the factions and their ideologies grows. And in times of war, sides must be chosen, secrets will emerge, and choices will become even more irrevocable—and even more powerful. Transformed by her own decisions but also by haunting grief and guilt, radical new discoveries, and shifting relationships, Tris must fully embrace her Divergence, even if she does not know what she may lose by doing so." --Goodreads
3. Jessica Rules the Dark Side by Beth Fantaskey. Jessica's Guide to Dating on the Dark Side was a lot of fun. I have high hopes for the sequel!
"
It's one thing to find out you're a vampire princess. It's a whole other thing to actually rule. Newly married Jessica Packwood is having a hard enough time feeling regal with her husband, Lucius, at her side. But when evidence in the murder of a powerful elder points to Lucius, sending him into solitary confinement, Jessica is suddenly on her own. Determined to clear her husband's name, Jessica launches into a full-scale investigation, but hallucinations and nightmares of betrayal keep getting in her way. Jessica knows that with no blood to drink, Lucius's time is running out. Can she figure out who the real killer is—and whom she can trust—before it's too late?" --Goodreads
4. Spellbound by Rachel Hawkins. After Hex Hall and Demonglass, I can't wait to find out what happens next to Sophie (and I hope she changes her mind about which boy she picked).
"
Just as Sophie Mercer has come to accept her extraordinary magical powers as a demon, the Prodigium Council strips them away. Now Sophie is defenseless, alone, and at the mercy of her sworn enemies—the Brannicks, a family of warrior women who hunt down the Prodigium. Or at least that's what Sophie thinks, until she makes a surprising discovery. The Brannicks know an epic war is coming, and they believe Sophie is the only one powerful enough to stop the world from ending. But without her magic, Sophie isn't as confident.

Sophie's bound for one hell of a ride—can she get her powers back before it's too late?" --Goodreads
5. Pandemonium by Lauren Oliver. Last but not least...I haven't read Delirium yet, but I trust Lauren Oliver. (Before I Fall was that good.) And doesn't it just sound awesome?
"
After escaping from Portland, Maine, Lena makes it to the Wilds and becomes part of an Invalid community, where she transforms herself into a warrior for the resistance. A future without Alex is unimaginable, but Lena pushes forward and fights, both for him and for a world in which love is no longer considered a disease. Swept up in a volatile mix of revolutionaries and counterinsurgents, Lena struggles to survive—and wonders if she may be falling in love again." --Goodreads