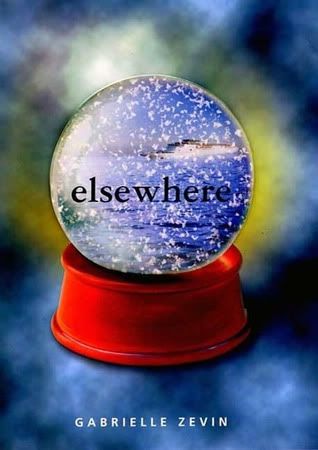 Is it possible to grow up while getting younger?
Welcome to Elsewhere. It is warm, with a breeze, and the beaches are marvelous. It's quiet and peaceful. You can't get sick or any older. Curious to see new paintings by Picasso? Swing by one of Elsewhere's museums. Need to talk to someone about your problems? Stop by Marilyn Monroe's psychiatric practice. Elsewhere is where fifteen-year-old Liz Hall ends up, after she has died. It is a place so like Earth, yet completely different. Here Liz will age backward from the day of her death until she becomes a baby again and returns to Earth. But Liz wants to turn sixteen, not fourteen again. She wants to get her driver's license. She wants to graduate from high school and go to college. And now that she's dead, Liz is being forced to live a life she doesn't want with a grandmother she has only just met. And it is not going well. How can Liz let go of the only life she has ever known and embrace a new one? Is it possible that a life lived in reverse is no different from a life lived forward? This moving, often funny book about grief, death, and loss will stay with the reader long after the last page is turned.
Rating: 3.5 out of 5 boxes
Target Audience: Readers wondering "what if...?"
High point: The idea
Low point: For slightly younger readers
Reader maturity: 13+
For some reason, I thought
Elsewhere
was a dystopian novel with a similar cover to
Matched
. So I was a little surprised at first to discover that the heroine is, for all Earthly intents and purposes, dead. But even being dead, Liz is a force to be reckoned with, getting into trouble and trying to find her purpose in the years she has left until she returns to Earth.
Elsewhere
is a book for younger YA readers and maybe even older MG readers, so it's a quick read, with a simple plot and straightforward characters. But don't let the simplicity fool you.
Elsewhere
tackles a lot of interesting questions about love and the purpose of life. Many of the situations force the reader to think about how time is being spent
now
, because there may not be a
later
.
The set-up of Elsewhere (the place) is pretty extraordinary. I don't want to ruin anything, but I was impressed by the physical rules of the place, as well as the rules in place for the citizens of Elsewhere. And I loved the mention of celebrities and their new Elsewhere careers (especially Marilyn Monroe's).
Since my views on what happens after death don't include reincarnation, this book made me a little uncomfortable at first, but eventually, it became clear that
Elsewhere
isn't pushing an agenda; it's simply a what-if fiction novel.
Title: Elsewhere
Author: Gabrielle Zevin
Genre: YA - Contemporary
Year: 2005
Book Source: Purchased