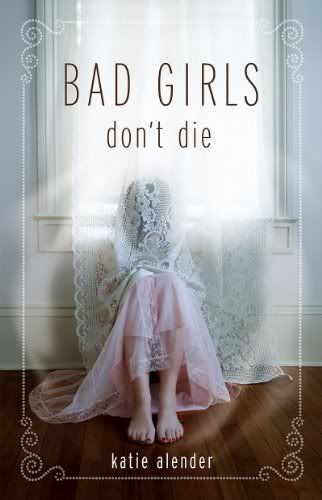 When Alexis's little sister Kasey becomes obsessed with an antique doll, Alexis thinks nothing of it. Kasey is a weird kid. Period. Alexis is considered weird, too, by the kids in her high school, by her parents, even by her own Goth friends. Things get weirder, though, when the old house they live in starts changing. Doors open and close by themselves; water boils on the unlit stove; and an unplugged air conditioner turns the house cold enough to see their breath in. Kasey is changing, too. Her blue eyes go green and she speaks in old-fashioned language, then forgets chunks of time.
Most disturbing of all is the dangerous new chip on Kasey's shoulder. The formerly gentle, doll-loving child is gone, and the new Kasey is angry. Alexis is the only one who can stop her sister — but what if that green-eyed girl isn't even Kasey anymore?
Rating: 4 out of 5 boxes
Target Audience: Ghost story guzzlers
High point: The ghost's history and the creepy factor
Low point: It's a formula ghost story...but that's not necessarily bad
Reader maturity: 13+
Once upon a time, I had this
thing
for ghost stories. It went on for years, and finally ended...oh, who am I kidding? It never ended. I
love
ghost stories, but I've been hard-pressed to find a decent YA version. I was raised on thrift store, 50 cent paperback 1980s versions that had been passed around for years. Those sated my adolescent thirst for restless spirits, but I've been looking for something higher in quality. Fortunately for me (and you...and ghost-story-guzzlers everywhere),
Bad Girls Don't Die
is a wonderfully executed ghost story.
Bad Girls Don't Die
hits all the high points--ghosts, magical trinkets, creepy dolls, possession--while managing, somehow, not to be cheesy or trite or boring. Ghost stories have a formula, one that
Bad Girls Don't Die
follows faithfully, but it doesn't feel tired or
formulaic
. For one thing, the main character, Alexis, and her relationship with her family feel very contemporary. She's got real-world problems along with her otherworldly issues.
Alexis makes two new friends during the course of the novel, both of whom defy stereotype and prove to be Alexis' saving graces. I particularly liked the cheerleader. She was so no-nonsense, and even though she and Alexis became friends
really
fast, it didn't seem unusual, especially given the circumstances.
Bad Girls Don't Die
even managed a rational history for the ghost. This is where a lot of ghost stories veer off-course, in my opinion, with lots of nonsense about why the ghost was so angry. This story made a lot of sense though, both in how the person became a ghost and why the ghost wanted what it did. The revelation of the ghost's death sent shivers down my spine.
With solid characters and an intense plot,
Bad Girls Don't Die
is the next iteration for those of us who grew up adoring ghost stories. And even if you didn't, it would be a great book to jump-start an adventure into a new branch of paranormal YA.
Title: Bad Girls Don't Die
Author: Katie Alender
Genre: Fiction - Supernatural
Year: 2009
Book Source: Purchased