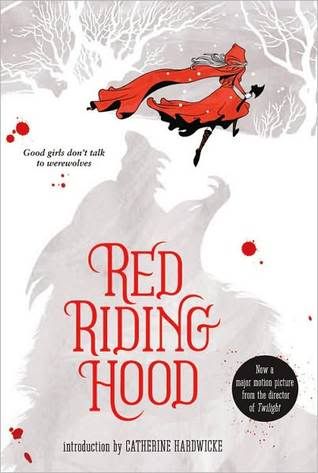 The blacksmith would marry her.
The woodcutter would run away with her.
The werewolf would turn her into one of its own.
Valerie's sister was beautiful, kind, and sweet. Now she is dead. Henry, the handsome son of the blacksmith, tries to console Valerie, but her wild heart beats fast for another: the outcast woodcutter, Peter, who offers Valerie another life far from home.
After her sister's violent death, Valerie's world begins to spiral out of control. For generations, the Wolf has been kept at bay with a monthly sacrifice. But now no one is safe. When an expert Wolf hunter arrives, the villagers learn that the creature lives among them--it could be anyone in town.
It soon becomes clear that Valerie is the only one who can hear the voice of the creature. The Wolf says she must surrender herself before the blood moon wanes...or everyone she loves will die.
Rating: 2 out of 5 boxes
Target Audience: Those who enjoy/don't mind love triangles
High point: A revamped fairytale
Low point: The love triangle and the confusing events
Reader maturity: 15+
Though I adore the premise of fairytale retellings,
Red Riding Hood
didn't hold much allure for me. The novel contained many great elements, such as the backdrop of a terrified and cloyingly strict village, as well as the mystery of the wolf's identity. Little bits and pieces of the Wolf's history are exposed by Valerie's memories, and clues to the Wolf's alter persona are revealed through the same medium.
Unfortunately, I found the characters of Henry and Peter predictable--one the kind and good businessman's son and one the rakishly handsome outcast. As might be expected, those two, combined with Valerie, create a love triangle, which is one of my least favorite plot devices, since the outcome is always cruel to someone.
Though I liked the idea of the story and even the overall plot (sans love triangle), but I was confused about some of the events and wasn't sure if I, as the reader, was supposed to know certain things or if I was supposed to be as oblivious as the townsfolk.
While
Red Riding Hood
wasn't a book for me, if you like retellings and don't mind love triangles, it might be worth a look.
Title: Red Riding Hood
Author: Sarah Blakley-Cartwright
Genre: Fiction - Supernatural
Year: 2011
Book Source: Won from Reading, Writing and the World of Words