Here are my top 5 books from 2011 (so far), as part of the Favorite Books of 2011 Challenge hosted by
Princess Bookie
.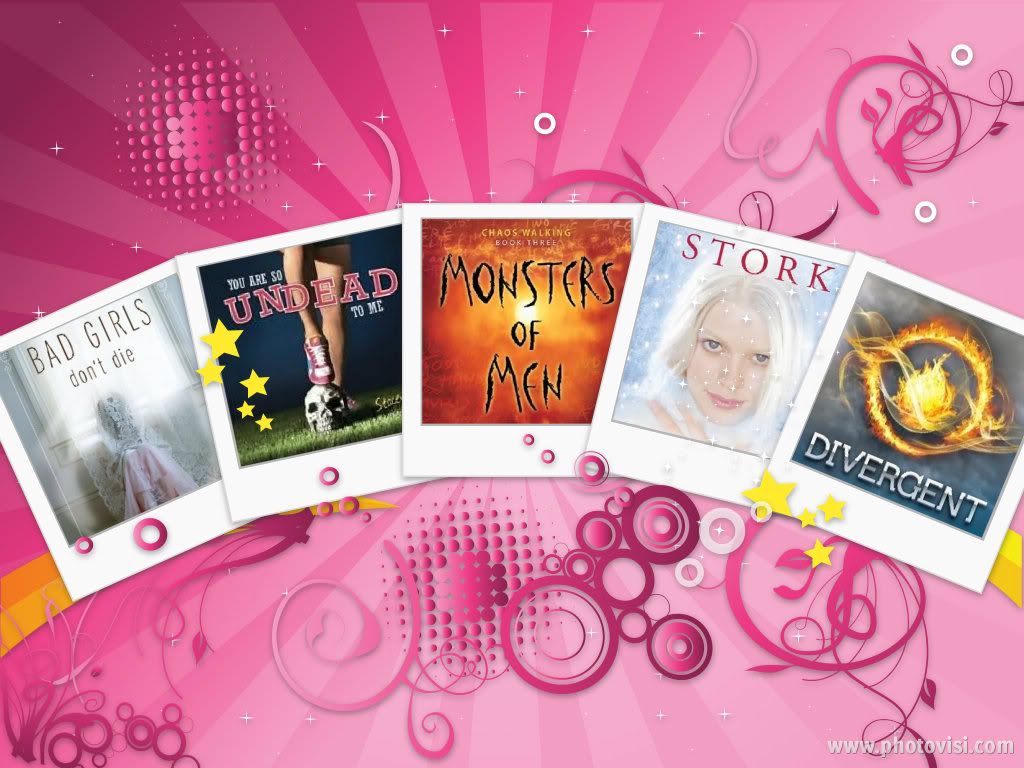 1.
Bad Girls Don't Die by Katie Alender.
I've been hunting for a good YA
ghost
story for
years
, and I finally found one!
"
When Alexis's little sister Kasey becomes obsessed with an antique doll, Alexis thinks nothing of it. Kasey is a weird kid. Period. Alexis is considered weird, too, by the kids in her high school, by her parents, even by her own Goth friends. Things get weirder, though, when the old house they live in starts changing. Doors open and close by themselves; water boils on the unlit stove; and an unplugged air conditioner turns the house cold enough to see their breath in. Kasey is changing, too. Her blue eyes go green and she speaks in old-fashioned language, then forgets chunks of time.
Most disturbing of all is the dangerous new chip on Kasey's shoulder. The formerly gentle, doll-loving child is gone, and the new Kasey is angry. Alexis is the only one who can stop her sister — but what if that green-eyed girl isn't even Kasey anymore?
" --Goodreads
2. You Are So Undead to Me by Stacey Jay. Sometimes, I'm in the mood for a fun book.
"
Fifteen-year-old Megan Berry is a Zombie Settler by birth, which means she's part-time shrink to a bunch of dead people with a whole lot of issues.
All Megan wants is to be normal and go to homecoming, of course. Unfortunately, it's a little difficult when your dates keep getting interrupted by a bunch of slobbering Undead.
Things are about to get even more complicated for Megan. Someone in school is using black magic to turn average, angsty Undead into flesh-eating Zombies, and it's looking like homecoming will turn out to be a very different kind of party the bloody kind.
Megan must stop the Zombie apocalypse descending on Carol, Arkansas. Her life and more importantly, homecoming depends on it.
" --Goodreads
3. Monsters of Men by Patrick Ness.
This was the
explosive
ending to the amazing Chaos Walking series. I couldn't have asked for a better ending (
unless I had to
).
"'
War,' says the Mayor. 'At last.' Three armies march on New Prentisstown, each one intent on destroying the others. Todd and Viola are caught in the middle, with no chance of escape. As the battles commence, how can they hope to stop the fighting? How can there ever be peace when they're so hopelessly outnumbered? And if war makes monsters of men, what terrible choices await? But then a third voice breaks into the battle, one bent on revenge - the electrifying finale to the award-winning "Chaos Walking" trilogy,
Monsters of Men
is a heart-stopping novel about power, survival, and the devastating realities of war.
" --Goodreads
4. Stork by Wendy Delsol. I haven't posted my review yet, but fyi, this book is so satisfying.
"
Family secrets. Lost memories. And the arrival of an ancient magical ability that will reveal everything.

Sixteen-year-old Katla LeBlanc has just moved from Los Angeles to Minnesota. As if it weren't enough that her trendy fashion sense draws stares, Katla soon finds out that she's a Stork, a member of a mysterious order of women tasked with a very unique duty. But Katla's biggest challenge may be finding her flock at a new school. Between being ignored by Wade, the arrogant jock she stupidly fooled around with, and constantly arguing with gorgeous farm boy and editor-in-chief Jack, Katla is relieved when her assignment as the school paper's fashion columnist brings with it some much-needed friendship. But as Homecoming approaches, Katla uncovers a shocking secret about her past — a secret that binds her fate to Jack's in a way neither could have ever anticipated. With a nod to Hans Christian Andersen and inspired by Norse lore, Wendy Delsol's debut novel introduces a hip and witty heroine who finds herself tail-feathers deep in small-town life.
" --Goodreads
5. Divergent by Veronica Roth. Wow. Just wow. I love dystopian, and this is one of the best books in the genre.
"
One choice.

One choice decides your friends, defines your beliefs, and determines your loyalties . . . forever.

Or, one choice can transform you.

In Veronica Roth's debut novel,
Divergent
, a perfect society unfolds into a dystopian world of electrifying decisions, stunning consequences, heartbreaking betrayals, and unexpected romance.
" --Goodreads