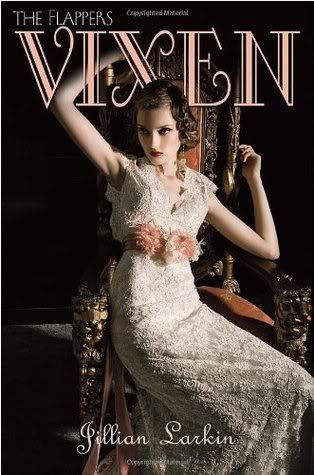 Jazz . . . Booze . . . Boys . . . It's a dangerous combination.

Every girl wants what she can't have. Seventeen-year-old Gloria Carmody wants the flapper lifestyle—and the bobbed hair, cigarettes, and music-filled nights that go with it. Now that she's engaged to Sebastian Grey, scion of one of Chicago's most powerful families, Gloria's party days are over before they've even begun . . . or are they?

Clara Knowles, Gloria's goody-two-shoes cousin, has arrived to make sure the high-society wedding comes off without a hitch—but Clara isn't as lily-white as she appears. Seems she has some dirty little secrets of her own that she'll do anything to keep hidden. . . .

Lorraine Dyer, Gloria's social-climbing best friend, is tired of living in Gloria's shadow. When Lorraine's envy spills over into desperate spite, no one is safe. And someone's going to be very sorry. . . .

From debut author Jillian Larkin, VIXEN is the first novel in the sexy, dangerous, and ridiculously romantic new series set in the Roaring Twenties . . . when anything goes.
Rating: 3.5 out of 5 boxes
Target Audience: Historical fiction fans
High point: Learning about the 1920s
Low point: The 1st half of the book
Reader maturity: 13+
I debated for several weeks how to best phrase this review and finally decided the simple approach is best.
At first, I didn't think I liked
Vixen
, but about halfway through, I realized that, several times, I sat down to read for 5 minutes and when I next checked the clock, it had been 20! So it's a little slow to start, but with a little patience, you'll soon reach the good stuff.
If you like historical fiction,
Vixen
is a great read. As I mentioned, it's a little dull for the first half of the novel; it feels like very little happens, and I didn't like any of the characters in particular. In the second half, things really get rolling with Gloria's second life and Lorraine's seedy past. Everything slowly creeps out of the shadows and culminates in a shocking ending that tellingly leads to a (deserved) sequel.
Oftentimes, I don't like books that switch POVs; it can be confusing and hard to really get to know a character. However, Ms. Larkin uses the technique skillfully, and I think that, in this case, it adds to the mystery of everyone's whereabouts and goings-on. (Also, I liked Gloria but Lorraine was my favorite, so this way I got to see things from Lorraine's POV and not just what Gloria thought about Lorraine.) There are a lot of things going on in
Vixen
, from flappers to Prohibition to interracial relationships. Gloria (and Lorraine) seem a little too progressive for belief, given their conservative parents/friends/schools/upbringings, but it allows a modern reader to identify with the girls.
Vixen
is a great start to a new series about the 1920s in America, and if you enjoy historical fiction, it's definitely worth picking up.
Title: Vixen
Author: Jillian Larkin
Genre: YA--Historical Fiction
Year: 2010
Book Source: Won an ARC from Writer Musings