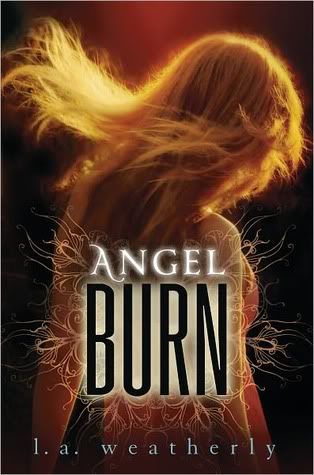 Willow knows she's different from other girls, and not just because she loves tinkering with cars. Willow has a gift. She can look into the future and know people's dreams and hopes, their sorrows and regrets, just by touching them. She has no idea where this power comes from. But the assassin, Alex, does. Gorgeous, mysterious Alex knows more about Willow than Willow herself. He knows that her powers link to dark and dangerous forces, and that he's one of the few humans left who can fight them. When Alex finds himself falling in love with his sworn enemy, he discovers that nothing is as it seems, least of all good and evil. In the first book in an action-packed, romantic trilogy, L..A. Weatherly sends readers on a thrill-ride of a road trip - and depicts the human race at the brink of a future as catastrophic as it is deceptively beautiful. They're out for your soul . . . and they don't have heaven in mind.
Rating: 4 out of 5 boxes
Target Audience: Paranormal readers

High point: The road trip and fight scenes

Low point: The Church of the Angels
Reader maturity: 13+
In
Angel Burn
, Willow, a supernatural hybrid, finds herself the target of The Church of the Angels and their leaders, the angels themselves. She finds help in an unlikely ally, the assassin Alex, and a few other warrior humans who see the angels' deception for what it truly is.
L. A. Weatherfly has a way with a pen (or in today's age, a keyboard). In
Angel Burn
, I found myself fighting alongside Willow (in my head) almost from the beginning. She reacted to her situation much as I think anyone one--without heroics or extreme actions. She's initially suspicious, then in denial, then suspicious, then terrified, then determined, then bold and courageous, all a seemingly natural progression (I assume, at least, since I've never been the target of anyone's fatality-inducing wrath). She also teaches a great lesson about how we're more than what we're made of and more than what we think are.
Alex and Willow fell in love too quickly for me, but this was tempered by the realization by both of them that it was too fast and their actual relationship moved at a much more believable pace. Willow even has morals that she stands up for and that Alex respects! Go Willow! Go Alex! I liked reading about a main character who can think on her own and who doesn't succumb to (what she thinks are) other people's expectations of her (and I mean that about more than just the situation with Alex). Alex had a bit of cliche tough-guy-outside, sensitive-guy-inside thing going on, but he wore it well with a legitimate history to back it up.
The concept of angel burn itself was cool too, as an explanation of society's ills, that thousands of people are sick or brainwashed and don't even know it.
Angel Burn
hinted at a greater infiltration of the world's governments, and I'm hoping that's explored more in the sequels,
Angel Fire
and
Angel Fever
.
There was one little thing that bothered me...Angels aren't my favorite supernatural beings, but
Angel Burn
isn't the first book I've read with angels as the protagonists. Something about this book made me uncomfortable, especially in the first half. Before a few secrets come to light, I wasn't sure if I liked where the story was going, but eventually it worked itself out.
If angels are your thing or you like paranormal YA in general,
Angel Burn
is worth picking up. It's got a little of everything--action, romance, paranormal, mysteries, conspiracies and CIA infiltration, to name a few. While it did make me a little nervous at first,
Angel Burn
is a well-written YA adventure that will have you rooting for Willow and eager for the next course.
Title: Angel Burn
Author: L. A. Weatherly
Genre: Fiction - Fantasy
Year: 2011
Book Source: Received for review from Candlewick Press