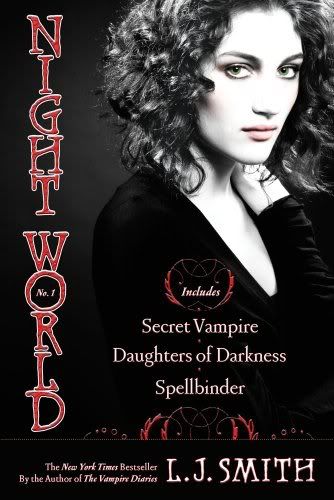 Vampires, werewolves, witches, shapeshifters -- they live among us without our knowledge. Night World is their secret society, a secret society with very strict rules. And falling in love breaks all the laws of the Night World.In Secret Vampire, Poppy thought the summer would last forever. Then she was diagnosed with terminal cancer. Now Poppy's only hope for survival is James, her friend and secret love. A vampire in the Night World, James can make Poppy immortal. But first they both must risk everything to go against the laws of Night World.
Fugitives from Night World, three vampire sisters leave their isolated home to live among humans in Daughters of Darkness. Their brother, Ash, is sent to bring the girls back, but he falls in love with their beautiful friend.
Two witch cousins fight over their high school crush. It's a battle between black magic and white magic in Spellbinder.
Rating: 2.5 out of 5 boxes
Target Audience: Fans of LJ Smith
High point: Daughters of Darkness
Low point: Didn't get to know the characters well enough
Reader maturity: 13+
Surely by now it's no secret that I love the works of LJ Smith. I recommended several of the series
here
and you can find my reviews of the four original Vampire Diaries books
here
.
But when I tried out
Night World
, it was missing something. I think maybe it's that
Secret Vampire
,
Daughters of Darkness
and
Spellbinder
are stand-alone novels, and I felt like I didn't get to know the characters well enough.
Of the three, I liked
Daughters of Darkness
best. It was missing the rose-colored glasses of
Secret Vampire
(Poppy is just a little bit too emotionally buoyant for me) and the unsubstantiated drama of
Spellbinder
(I don't see how someone could be so mean to someone else
just because
, especially with an ending like that). The characters really seem like family, and the story was one of the more creative ones. It was full of tension with secrets and danger popping up around every corner. I really wanted to know what happened to Mary-Lynette after the closing of the novel!
Overall,
Night World #1
left me unmoved, due to something I can't quite put my finger on. However, it's written in true LJ Smith style with lots of innocent passion and everygirl tales so if you enjoy her other works,
Night World
might be right up your alley.
Title: Night World #1: Secret Vampire, Daughters of Darkness, Spellbinder
Author: L. J. Smith
Genre: Young Adult Horror and Suspense
Year: 1996
Book Source: Purchased