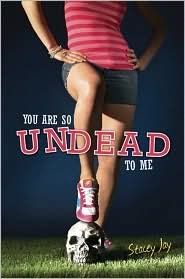 Fifteen-year-old Megan Berry is a Zombie Settler by birth, which means she's part-time shrink to a bunch of dead people with a whole lot of issues.
All Megan wants is to be normal and go to homecoming, of course. Unfortunately, it's a little difficult when your dates keep getting interrupted by a bunch of slobbering Undead.
Things are about to get even more complicated for Megan. Someone in school is using black magic to turn average, angsty Undead into flesh-eating Zombies, and it's looking like homecoming will turn out to be a very different kind of party the bloody kind.
Megan must stop the Zombie apocalypse descending on Carol, Arkansas. Her life and more importantly, homecoming depends on it.
Rating: 4 out of 5 boxes
Target Audience: Zombie fans who want something lighthearted
High point: Megan and the surprise ending
Low point: The campiness...but camp can be fun
Reader maturity: 13+
You Are So Undead to Me
took me totally by surprise. It had me laughing aloud and rooting for Megan from start to finish.
By no means a serious, dramatic novel,
You Are So Undead to Me
keeps that in mind, reveling in camp and kook but with a strong plot and characters to keep it from feeling silly. The concept of Zombie Settlers, people who are born to put the semi-dead at rest, is fresh and thoroughly explained. Megan is a charming MC, self-deprecating and just a tiny bit sarcastic in the way of of high school girls who aren't quite sure of themselves yet. She is a little obsessed with/about/over her crush, but then...what high school girl isn't? Everyone from her parents, to the Council, to her best friend, to her crush, to her enemies and Megan herself are integral to the plot, which is filled with twists and turns that left me guessing until the end.
One of the best things about
You Are So Undead to Me
is that the last third of the book took me completely by surprise. I had the ending all figured out in my head, and I turned out to be completely wrong. It was wonderful! I love it when an author creates a plausible, yet completely unexpected, answer for the events of a book. And it was a good ending! Lots of action, fighting, Zombies, fire, kissing--it all left me waiting anxiously for more Megan Berry, Zombie Settler.
Title: You Are So Undead to Me
Author: Stacey Jay
Genre: Fiction - Supernatural
Year: 2009
Book Source: Purchased