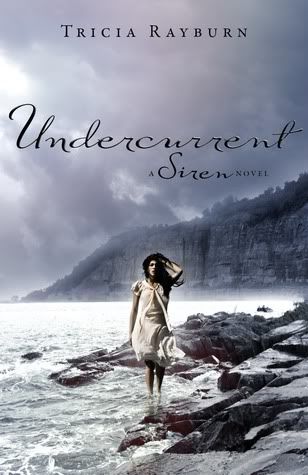 The sirens are back, but Vanessa may be the biggest threat of all. . . .

Nothing has been normal since Vanessa Sands learned that her sister was murdered by sirens—femme fatales of the watery depths—and that everything she believed about her family was a lie.
Her boyfriend Simon's been the only person Vanessa feels she can really trust. But now there are some secrets she can't tell even him. And when Vanessa finds herself in the sights of Parker, Hawthorne Prep's resident charmer, she needs someone to confide in more than ever. Doubting her relationship with Simon, unsure of Parker's intentions—and of her own—and terrified by what she's learned about herself, Vanessa has never felt so alone.
But personal problems must be put aside, because the Winter Harbor sirens are back for revenge. Now, Vanessa must face her past and accept that she is just like her enemies—every bit as alluring, every bit as dangerous.
Rating: 2.5 out of 5 boxes
Target Audience: Paranormal fans tired of the same-old, same-old
High point: The scary sirens
Low point: Readers need to be familiar with the first Siren novel
Reader maturity: 15+
It always helps to start a series at the beginning, and unfortunately, I began the Siren novels with the second book,
Undercurrent
. While some sequels allow the reader to jump in,
Undercurrent
really requires knowledge of the events of the first book. It took me a long time to figure out the reason behind Vanessa's weird habits and her strange relationship with Simon. That's my own fault, though, for not reading the series in order, so I'll try to review the rest of
Undercurrent
with that in mind.
Sirens sound really scary. They're not a mythological creature that I've read much about, and wow...they're vicious. Zara and Raina and all the other sirens are truly selfish, which makes them terrifying. They're cold and calculating and stop at nothing to lure their prey.
Vanessa wasn't my favorite MC ever; she was a little bit impulsive, going off half-cocked to "find answers" and instead getting herself into awkward/dangerous situations over and over again. I really liked her friend, Paige, though; she lent some
everygirl
to the novel. One of the things I
did
like about Vanessa is her persistence, even if that caused problems sometimes. She's dedicated and loyal and refused to be brushed off while investigating the mystery of her birth.
I didn't really connect with
Undercurrent
, but I suspect that may be due to my confusion about what happened in the first novel. I was too busy scrambling to piece together more than one mystery to take the time to appreciate the writing or growth of the characters.
Undercurrent
is an interesting read; however, if you haven't read
Siren
, I highly advise reading it before you pick up
Undercurrent
so you can fully appreciate it.
Title: Undercurrent (Siren #2)
Author: Tricia Rayburn
Genre: Fiction - Supernatural
Year: 2011
Book Source: Won an ARC from First Novels Club