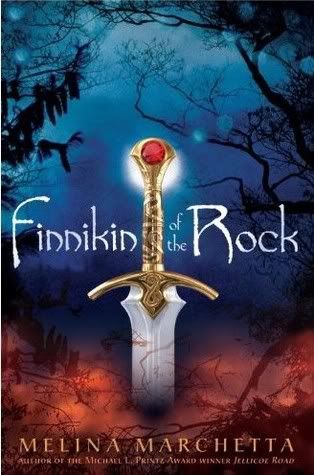 At the age of nine, Finnikin is warned by the gods that he must sacrifice a pound of flesh to save his kingdom. He stands on the rock of the three wonders with his friend Prince Balthazar and Balthazar's cousin, Lucian, and together they mix their blood to safeguard Lumatere.

But all safety is shattered during the five days of the unspeakable, when the king and queen and their children are brutally murdered in the palace. An impostor seizes the throne, a curse binds all who remain inside Lumatere's walls, and those who escape are left to roam the land as exiles, dying by the thousands in fever camps.

Ten years later, Finnikin is summoned to another rock--to meet Evanjalin, a young novice with a startling claim: Balthazar, heir to the throne of Lumatere, is alive. This arrogant young woman claims she'll lead Finnikin and his mentor, Sir Topher, to the prince. Instead, her leadership points them perilously toward home. Does Finnikin dare believe that Lumatere might one day rise united? Evanjalin is not what she seems, and the startling truth will test Finnikin's faith not only in her but in all he knows to be true about himself and his destiny.
Rating: 4.5 out of 5 boxes
Target Audience: Fantasy fiction fans...and even those who aren't
High point: Epic drama
Low point: My misgivings about Finnikin
Reader maturity: 15+
I've been on a book high lately, one that I was worried would be derailed by a fantasy novel that I've heard everyone rave over. I'm not a big fan of fantasy (
Lord of the Rings
is pretty much my limit), but I'm so glad I received
Finnikin of the Rock
for review. It was as awesome as everyone said and will be making a permanent home on my bookshelf.
I first started reading
Finnikin of the Rock
in a doctor's office, and I felt a little silly reading a book with a bright sword on the cover. Within pages, I was too engrossed to care what anyone else thought; I was involved in sharing the pain of the Lumaterans during the five days of the unspeakable. Every time I picked up this book, I was completely immersed. The feeling is almost indescribable, but every time I paused, it was like waking up to real life and realizing that the world had continued moving without me and I didn't even notice that I'd been gone.
Finnikin of the Rock
stars a huge ensemble, but I never had any trouble keeping the characters straight. I'm amazed at the realism of the interactions between all of the King's Guard and Finnikin and Evanjalin and the others that they meet on their journey. Non-lead characters have a tendency to feel flat or serve merely to fulfill a plot point, but reading
Finnikin of the Rock
is like becoming a part of a Lumateran camp and knowing the inhabitants first hand.
Some of the plotlines are classic fantasy (a curse, religious persecution, a throne at stake, poison), but everything feels remixed, with enough unique elements included that I barely had time to notice the tried-and-true; I was too busy being swept away with Finnikin, trying to find Balthazar or his father.
One thing that bothers me, not so much about the book itself but about Finnikin, is that he's really grabby, to the point of hurting Evanjalin more than once. I know it's because he's impatient and not fully mature, but I wanted to tell Evanjalin to run. Finnikin eventually conquers the pride that caused the grabbiness, but that kind of intense manhandling would likely lead to violence in our world. So it bothered me a little bit. I wish that Evanjalin had told him off about that in particular. Her failure to do so certainly didn't stem from cowardice, though, so I'll assume that she was putting up with him in order to save Lumatere.
Just a warning to the easily shocked (like me, I suppose): While there are no explicit descriptions of adult activities in
Finnikin of the Rock
, some of the characters are, shall we say,
indelicate
in their desires and musings. They're not frequent, but a few of the conversations or occurrences made me blush.
Finnikin of the Rock
is a book that I believe must be enjoyed at least twice, if not three times or more. I can't be sure of that because I've only read it once (so far), but there are some things I know I missed in my sprint to find out what happens. Even though I've just finished it, I already want to read it again and soak up the details, especially those pertaining to Evanjalin and Finnikin. Now that I know their futures, more of the minutiae will have meaning. (And, I'll admit, I got to the end and was a little confused and actually flipped back through and thought, "Ohhh. I missed that part. Because I was reading too fast.") So either learn from my mistake and pace yourself so that you get the full experience with one time through, or allow yourself the luxury of rereading it. And, of course, to reread it, you must read it for the first time, so if you haven't, what are you waiting for?
Title: Finnikin of the Rock
Author: Melina Marchetta
Genre: Fiction - Fantasy
Year: 2010
Book Source: Received for review from Candlewick Press