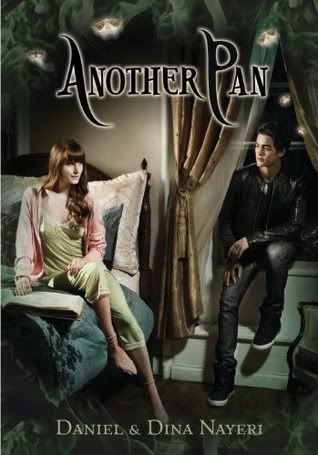 Sixteen-year-old Wendy Darling and her insecure freshman brother, John, are hitting the books at the Marlowe School. But one tome consumes their attention: THE BOOK OF GATES, a coveted Egyptian artifact that their professor father believes has magical powers. Soon Wendy and John discover that the legend is real—when they recite from its pages and descend into a snaking realm beneath the Manhattan school. As the hallways darken, and dead moths cake the floor, a charismatic new R.A. named Peter reveals that their actions have unleashed a terrible consequence: the underworld and all its evil is now seeping into Marlowe. Daniel Nayeri and Dina Nayeri return to reimagine Peter Pan as a twisty, atmospheric, and fast-paced fantasy about the perils of immortality.
Rating: 3.5 out of 5 boxes
Target Audience: Paranormal fans looking for something a little dark and different
High point: How shocked I was at the new Lost Boys
Low point: John's insecurities
Reader maturity: 13+
While
Another Faust
was a little gritty for me, I found
Another Pan
to be much more up my alley. It still has the scheming Governess (in another incarnation), but she plays a lesser role, allowing some other, equally devious, characters to come forward. This reboot of Peter Pan certainly changed the way I see the character from J. M. Barrie's children's story.
Another Pan
is a mythic retelling of the Pan story with a hefty dose of Egyptian sand and saga thrown in alongside several smarmy personalities that have nothing to do with Madame Vileroy. It was interesting to see how all the Egyptian legends tied into the story and to watch Wendy and John fight through the web enveloping the school.
Another Pan
also has a much more likable cast of characters, ones that I was rooting for and related to more than Madame Vileroy's five charges. Wendy Darling, although a bit wishy-washy, has, as her redeeming quality, her brother's best interests at heart. Her brother is really something--now
him
I didn't like, but at least his portrayal as a wannabe was amusing. Their father seemed to be a good sort, and I was shocked when Peter (he of the title) was introduced.
The characters are very diverse, each with a distinct personality (except maybe Connor? Does that mean something about him?). Like its predecessor, the writing was fantastic, sweeping me along, and I could feel the doom and gloom that had descended over Marlowe.
If
Another Faust
was your thing, you'll love
Another Pan
, and even if it wasn't, I encourage you to give
Another Pan
a try. You'll never watch the Disney movie the same way again.
Title: Another Pan
Author: Daniel & Dina Nayeri
Genre: Fiction - Supernatural
Year: 2010
Book Source: Received for review from Candlewick Press