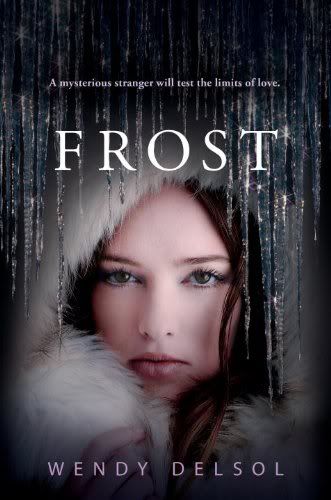 After the drama of finding out that she's a Stork, a member of an ancient and mystical order of women, and that her boyfriend, Jack, is a descendent of the Winter People able to control the weather, Katla Leblanc is delighted when all signs point to a busy and peaceful Christmas. That is, until the snowstorm Jack summons as a gift to Katla turns into the storm of the century, attracting Brigid, a gorgeous scientist who, in turn, attracts Jack. Between the school play, a bedridden, pregnant mother's to-do lists, and keeping an eye on her aging grandfather, Katla doesn't have time to question Brigid's motives or deal with Jack's increasingly cold behavior. But Katla's suspicions mount when Jack joins Brigid on a research expedition to Greenland, and when the two of them go missing, it becomes clear that Katla is the only one who can save her beloved Jack from the Snow Queen who holds him prisoner. Adventure, romance, and myth combine in this winter escapade for teens who like a bit of fire with their ice.
Rating: 5 out of 5 boxes
Target Audience: Everyone! Especially if they love paranormal...or contemporary...or love stories...or reading in general...
High point: Katla's voice
Low point: Nothing, nothing at all
Reader maturity: 13+
I think you know by now that I don't go fangirl* very often, but I'm going to deviate from the norm and strongly encourage/push/shove you to your nearest bookstore, library or laptop (for Amazon access!) to buy
Stork
, so you can read
Stork
, be totally amazed and then run out and buy, borrow or steal (just kidding about that last one!)
Frost
.
Yes, it's really that good! As with all second novels, I approached it with a little bit of caution and, I'll admit, procrastination, but as soon as I started reading, the happy feeling that
Stork
gave me while I was reading it enveloped me.
Frost
isn't a happy, sunshiny, summertime book, but something about it makes it a joy to read, like I know that I'm in capable hands and that Wendy Delsol is going to give me an adventure I won't forget.
As with
Stork
, we're following Katla as she navigates her duties as a Stork, a student, a daughter and a girlfriend. On the first front, it's great that we get to see Kat maturing as a Stork. She handles it in an awkward but respectful manner befitting her age.While her actual Stork duties aren't very time-consuming, being a Stork is all-encompassing, and
Frost
does a great job of expanding on Kat's potential abilities while allowing other plotlines to take center stage.
As for being a girlfriend, that's really what spurs Katla to action in this novel. Jack and Katla have a great, healthy relationship. They both know they have secrets, but they acknowledge the reason for the secrets instead of devolving into lies or sulking. While I would usually think that such a relationship could easily be dysfunctional, their emotional connection is obvious, and I was rooting for them the whole time.
In
Frost
, Katla gets to have some really cool adventures in Iceland (pun kinda-sorta intended). There are lots of great Icelandic tidbits tossed in, and I enjoyed immersing myself in the culture for a little while. I hesitate to say much else for fear of spoiling it, but I will say that Katla's time in Iceland is well spent and described in intricate detail (I love the costume touches!) from dresses to mountaintops. I was on the edge of my seat waiting to see what happened next.
I wouldn't go so far as to say that
Frost
is a stand-alone novel, because I think you really need to read Stork to appreciate the happenings of
Frost
. However, it doesn't fall prey to second novel syndrome, i.e. it's a story in its own right and it does more than merely serve as a connection between the first and third novels in a series.
One last thing: in the novels I grew up on, chapters always ended on a cliffhanger or a clever saying. That technique seems to have been abandoned with time, but Wendy Delsol uses it (in Katla's strong voice) to close out the chapters. I love it. It makes everything seem more exciting somehow.
The ending, as with
Stork
, was utterly satisfying, but also left me anticipating the next novel. I want to know what happens to Katla, Jack and the series' newest character!
*Someone asked me what I was reading and I told her the title. Then the woman asked the author, and I guess the gleam in my eye got a little bright as I told her because she backed away before I had a chance to say much more than, "It's amaaaazing!"
Title: Frost
Author: Wendy Delsol
Genre: Fiction - Supernatural
Year: 2011
Book Source: Received for review from Candlewick Press